There are few comfort foods more soothing than a hot slice of buttered toast, which can liven up any breakfast or simply serve as a snack at any time during the day. Not all types of toast are nutritionally similar, however. To make the healthiest choice, go for a whole grain variety and limit the amount of butter you spread on when your bread pops out of the toaster. MyPlate can help you decide which toast has the least amount of calories.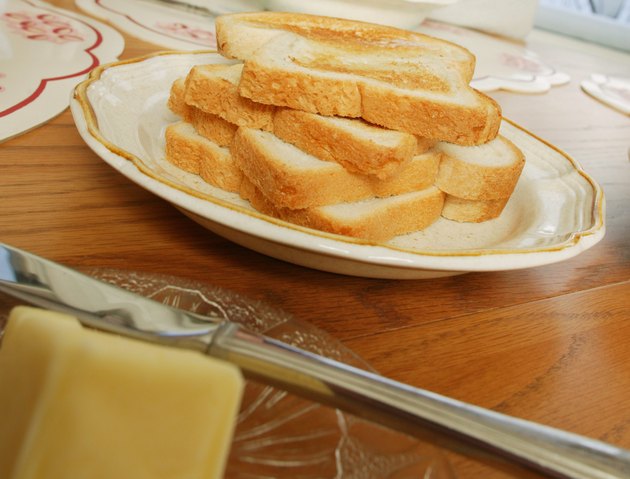 Nutrition Facts
A large slice of bread will offer a similar number of calories whether it's made from refined white flour or whole grain flour, but the other nutrient components can be quite different. According to the USDA, a 38 g slice of white toast has 110 calories, 3.5 g protein, 1.5 g fat, 20.5 g carbohydrates, 1 g fiber and 1.8 g sugar. The same sized slice of whole wheat toast has 115 calories, 6 g protein, 1.5 g fat, 19.5 g carbohydrates, 3.5 g fiber and 2 g sugar. An equivalent slice of multigrain toast, which typically contains a variety of whole grains, has 110 calories, 5.5 g protein, 1.75 g fat, 18 g carbohydrates, 3 g fiber and 2.5 g sugar. A tablespoon of salted butter adds 100 calories and 11.5 g fat to a slice of toast.
Composition
The nutrients you'll find in your slice of buttered toast largely depend on the bread's ingredients. Since white bread is made with refined white flour, which has been stripped of the wheat's bran and germ, it has less fiber and protein. Multigrain and whole wheat varieties contain more B vitamins and dietary fiber, which ChooseMyPlate.gov notes can encourage healthy metabolism, weight management and reduced risks of diabetes and heart disease.
Variables
The nutritional profile of what you eat is also determined by the size of your slice of toast and how much butter you use with it. A very large piece of toast can contain about double the calories as a small, thin slice, and piling on the butter will add calories as well as saturated fat and cholesterol, which can raise risk factors for heart disease. To keep your diet in check, consider using "whipped" butter or spreading on just a small amount.
Considerations
Although buttered toast can make a tasty addition to any meal and offers plenty of carbohydrates and fat, it's not a balanced snack on its own because it has very little protein. To make it healthier, spread on peanut butter instead of butter or eat your toast with a high-protein item, such as low-fat yogurt or 1/2 cup of cooked beans. To get the best nutrition, balance what you eat every day among lean proteins, low-fat dairy, fruits and vegetables as well as grain products.