During vigorous exercise, individuals may experience side effects or symptoms from overexertion. These can include nausea, vomiting and headaches. For the most part, each symptom is treatable, especially if you stop exercising once the symptoms arise. If the symptoms continue on a regular basis during exercise, seek medical advice from your doctor to diagnose the cause and make sure there are no underlying health conditions.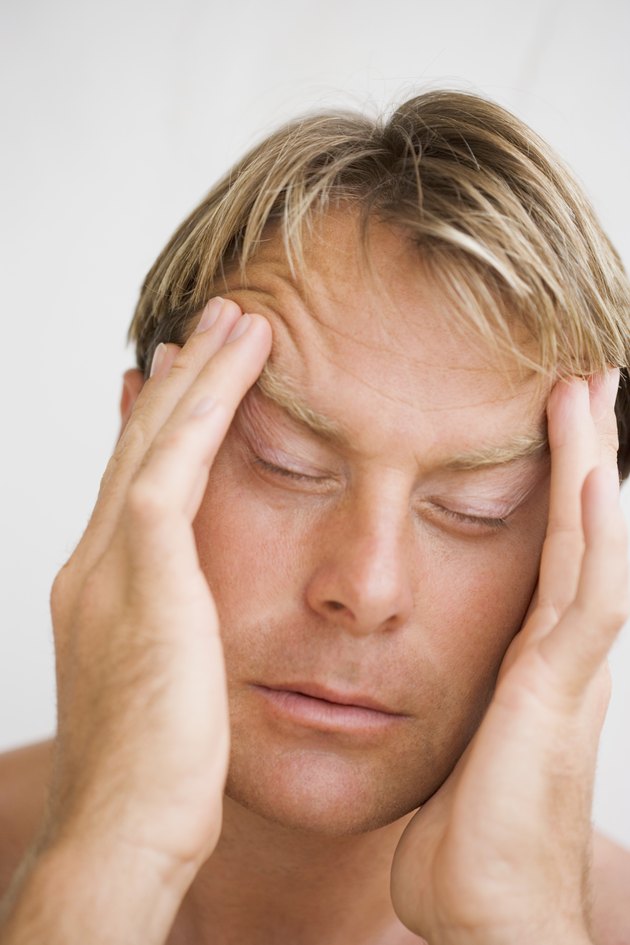 Headaches
Exercise, or exertion, headaches fall into two categories: primary and secondary headaches. Primary headaches are not life-threatening. They are caused by various factors such as tension, stress, dilation of blood vessels, depletion of oxygen in the brain's blood vessels or elevated blood pressure. Secondary headaches are life-threatening. They are due to an underlying disease such as bleeding in the thin membranes of the brain, brain infection, brain tumor, bursting or ballooning of blood vessels, stroke or heart attack.
Headache Treatments
Treatment for exercise headaches includes painkillers such as ibuprofen or indomethacin. In the case of a primary exercise headache, such as an exercise-induced migraine, anti-migraine tablets are recommended before starting exercise, especially when the headache is predictable. However, in cases of unpredictable headaches, preventive medications such as propranolol are prescribed by a doctor for weeks to a month, depending on the frequency and intensity of the headaches. In addition to medications, rest in a dark room can help relax the body and overcome exercise-induced headaches.
Nausea and Vomiting
Exercise sometimes can induce nausea and vomiting, especially if the workout is intense. This primarily happens when the blood flow to the intestinal tract is decreased. Insufficient blood flow results in the intestinal tract being unable to digest the stomach contents, causing nausea, vomiting, diarrhea and stomach cramps, especially if accompanied by dehydration in hot weather. If a workout causes nausea and vomiting, stop exercising and lie down on the floor. Sip on some water to help replace lost fluids. In most cases, over time, the body will adapt itself and improve the VO2 max, which is the maximum volume of oxygen used in a minute, an indicator of cardio-respiratory endurance. If vomiting persists, contact your doctor.
Caution
If a headache continues post-exercise, even after the administration of medication, consult a physician. It's also important to keep yourself hydrated before, during and after exercise. Lack of proper hydration can trigger headaches and nausea during exercise. If nausea and vomiting do not stop after ceasing from exercise, consult a physician for appropriate treatments.