Very early, professional cooks and bakers learn to make a ritual of setting out all their ingredients before starting a recipe. That way, they never get halfway through a recipe and find out that they're missing a vital ingredient. It's a good habit to get into, even if you only bake from boxed cake mixes.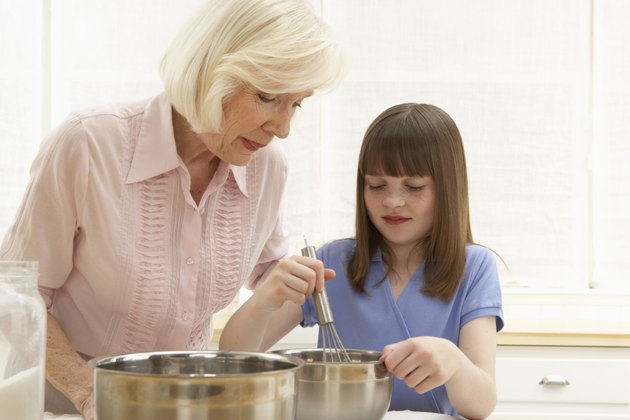 How Cake Mixes Work
The ingredients in a cake mix can be divided into two categories. The first is ingredients necessary to make a cake; the second is the various additives needed to keep the ingredients fresh, and to ensure that the cake has the desired light, soft crumb. The first group includes normal, everyday ingredients like flour, sugar and baking powder. The second consists of anti-clumping ingredients to keep the mixture powdery, antioxidants to keep them from going stale, and emulsifiers to help the ingredients mix properly. The baker adds oil, water and eggs to complete the cake.
What Eggs Do
The eggs added to a cake mix serve a number of functions. The proteins in the egg provide some of the structure that holds the cake together, while the fats in the yolk make it richer and better-tasting. The fats in the yolk also help soften the texture of the cake, keeping it from becoming chewy. The yolk also contains emulsifiers that help the other ingredients blend together.
Cake Mix With Reduced Eggs
A cake mix can be prepared without eggs more easily than a scratch-made cake. It already contains some fat in dried form, and you'll add more when you mix it. The egg yolk's emulsifiers aren't necessary, because the cake mix already includes other emulsifiers such as lecithin. The cake might be dryer and chewier than usual, but you can compensate for that by adding more oil. In short, if you have fewer than the three eggs a normal boxed mix calls for, you can use what eggs you have and add enough extra water and oil to make up the difference.
Cake Mix Without Eggs
If you wish, you can also make a boxed cake mix entirely without eggs. You can compensate for the loss of flavor by using milk instead of water, but it's not usually necessary. You can make an acceptable cake just by pouring a standard 12 ounces soda into the mix. Another alternative is to add sour cream or yogurt in place of the eggs. For a healthier version, use a can of pumpkin puree with the cake mix. Applesauce or other pureed fruit will work too, making a moist and nutritious cake.