Iced or room temperature? When it comes to deciding between ice water and warm water for hydration, the good news is that in most cases there is not a major difference in their effect on your body. While there are some situations in which ice water may be slightly more beneficial than warm water, your main priority should simply be to drink enough water each day -- whether it is warm or cold.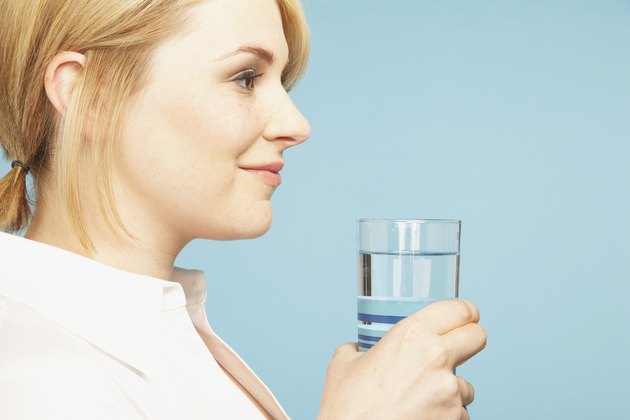 Ice Water
Many prefer the taste and feel of ice or cold water, and it can be better to drink when you are exercising. When you exercise or are involved in intense activity, your body temperature rises; drinking cold water can help lower your temperature back to normal. This can be important in high heat or strong sun, when you risk heatstroke from strenuous exercise. In addition, cold water is absorbed more quickly into your body than warm water, helping you rehydrate more quickly, according to Columbia University.
Warm Water
Warm water is not necessarily worse than cold water; however, when you are exercising, it may not help replace your fluids as quickly and it will not have the same cooling effect. However, it does not make a significant difference, if you prefer warm water. Furthermore, if you have sensitive teeth, ice water may irritate them, while warm water will not. It is more important that you drink sufficient water to replace the liquid you lose through daily and physical activities, preventing dehydration, than that you drink water of a specific temperature.
Dehydration
Dehydration can occur in any situation in which you lose more fluids than you take in — an intense fever, vomiting or simply not drinking enough water throughout the day. Dehydration can cause a dry mouth, a feeling of thirst, lack of skin elasticity, low blood pressure and elevated heart rate. Complications resulting from dehydration can include brain swelling, seizures, kidney failure and, in extreme cases, unconsciousness and death.
Amounts
While the amount of water needed may vary from individual to individual, the general recommendation is 8 or 9 cups of water daily. The Baylor College of Medicine recommends the guideline that you are drinking enough water when you feel thirsty infrequently and eliminate clear or pale-colored urine frequently. To stay hydrated, you can drink a glass of water -- cold or warm -- before and in between each of your meals. You may need more if your skin is dry or you feel mentally or physically fatigued.