Frozen ground turkey is a staple ingredient for many meals, from turkey burgers to turkey chili. Lean ground turkey is a good substitute for ground beef if you are trying to reduce your intake of fat and calories. Ground turkey is a good source of vitamin B6, selenium, iron, niacin and phosphorous. You can defrost your ground turkey in your microwave as long as you watch it carefully to make sure that the ground turkey does not cook in the microwave.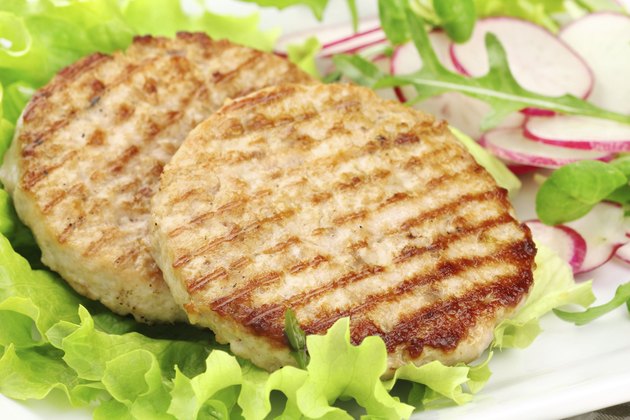 Step 1
Open the package of frozen ground turkey and remove the frozen meat. Discard the packaging.
Step 2
Place the ground turkey on a microwave-safe plate. Heat the turkey on your microwave's defrost setting for three minutes, turning once halfway through the cooking time.
Step 3
Take the block of turkey out of the microwave and place it in a bowl. Hold the block of turkey on end in the bowl and carefully scrape away the thawed meat with your knife. Leave the thawed meat in the bowl.
Step 4
Place any frozen meat back onto the plate and defrost it for three more minutes. Repeat the cooking and scraping process until all of the meat is thawed.
Step 5
Use the thawed turkey as your recipe directs.
Things You'll Need
1-pound package ground turkey

Microwave-safe plate

Bowl

Knife
Tips
If you notice any of the turkey is beginning to cook in the microwave, take it out and scrape it into the bowl before it can cook completely.