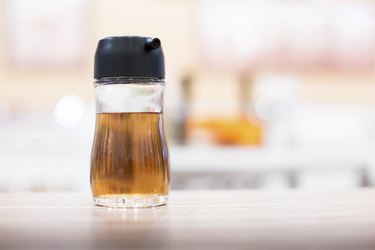 Sesame is an ancient cultivated plant that was pressed into oil in Assyria and Babylon at least 4,000 years ago. Seeds have a high oil content; they are 50 percent oil and 25 percent protein. The protein pulp remaining after oil production is used for animal feed. Sesame oil is a light-colored, all-purpose oil used for salad dressing and cooking. Toasted sesame oil is darker than standard sesame oil and has a nuttier, smokier flavor. Nutritionally, the two oils are very similar.
Sesame oil comes from the raw seeds and is either cold-pressed for use in salads or refined and used for frying and sautéing. It has a high smoke point, which means it is slow to degrade in heat, making it suitable for cooking. Toasted sesame oil is pressed from seeds that are toasted first, which accounts for its darker color and more pronounced flavor. The Thomas Jefferson Agricultural Institute says that high antioxidant levels in sesame oil make it very stable. It can keep for months without going rancid.
Which Kind Should You Use?
Fats and calories in sesame oil and toasted sesame oil are nearly identical. A tablespoon of ordinary sesame oil has 120 calories and 14 g of fat. A tablespoon of the toasted oil has 125 calories and 14 g of fat. Sesame oil is unsaturated and has no trans fat.
Sesame oil may be used for stir-frying vegetables and as a substitute for olive oil and other vegetable oils in Asian recipes. The better quality cold-pressed oils enliven a simple vinaigrette and may be blended into homemade salad dressings. Toasted sesame oil's distinctive flavor is used to season an already cooked dish, applied sparingly at the end of preparation. The toasted oil is often combined with soy sauce for a savory dip or sauce for vegetables, noodles or fish.
Health Benefits of Sesame Oil
It might surprise you that sesame oil has some interesting heart-health and cancer-prevention benefits. When used in combination with sunflower oil, sesame oil helps lower blood pressure in patients with hypertension. A 4-year study conducted at Rajah Muthiah Medical College and Hospital and Annamalai University in India, published in the April 2011 "Saudi Medical Journal," concluded that the oil mix lowered both blood pressure and LDL cholesterol levels in the subjects treated. Sesamin, an antioxidant phytochemical in sesame oil, caused cancer cells to consume themselves in a study at Sapporo Medical University School of Medicine. The study, published in the "International Journal of Oncology" in July 2011, showed that sesamin activated tumor suppressors in colorectal cancer cells.