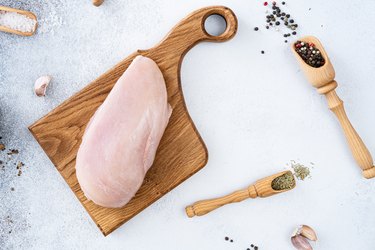 You crave grilled chicken, but don't feel like the time-consuming clean up that follows. Cook chicken in foil on the grill, for a flavorful meal without the mess.
Tip
Lay boneless chicken breast with vegetables and sauce on a large sheet of foil. Fold it up, and place on a hot grill. Close the lid, and in 15 to 20 minutes, your meal is ready.
Chicken in Foil on BBQ
Cooking chicken in foil on the BBQ is an easy way to avoid turning on the oven and heating up the house. A chicken and vegetables in foil packets recipe is fully customizable. Use the vegetables and seasonings that you and your family love.
The consistent ingredients in the recipe are chicken breasts, pounded to an even thickness, and heavy-duty aluminum foil. Heavy-duty foil is thicker, and better able to withstand being packed with ingredients and exposed to high heat.
Good seasonings include some combination of salt and pepper, paprika, chili powder, cumin, oregano, and thyme. A drizzle of olive oil helps keep the chicken moist as it cooks.
The vegetables you choose to add to chicken in foil on the grill are largely up to you. Usually, faster-cooking vegetables are best, such as zucchini, corn kernels, bell pepper, onion, spinach and mushrooms. Potatoes or sweet potatoes may be added, if cut into a small dice.
As for sauce, use your favorite bottled barbecue sauce. Other options include honey-mustard, teriyaki or even ranch or Italian salad dressing. You could also go sauce-free, and use just garlic, herbs and olive oil to create flavor.
Foil Packet Cooking Method
Use 12 by 12 inch squares of heavy duty foil. Place approximately ½ cup of chopped or sliced vegetables in each pack. Top them with a skinless, boneless chicken breast, and sprinkle on spices, herbs and salt. Drizzle on olive oil, as well as a tablespoon or two of any sauce you choose to use.
Fold the sides of the foil over the chicken, as if you're wrapping a present, and crimp them to seal. Place on a grill preheated to medium-high. Close the lid to keep in the heat. After about 8 eight minutes, flip the packets (make sure they're well sealed) and cook another 7 to 8 minutes.
Make sure the chicken is cooked through before serving. Cooked chicken should reach an internal temperature of 165 degrees Fahrenheit according to the USDA. With thin breasts, it's usually easy to tell if they're fully cooked, but when in doubt, use a food thermometer to be sure.
Safety of Chicken in Foil
When you grill chicken straight on the grates of the grill, you expose it to high heat and open flames. Fat from the chicken can drip and burn, too. As a result, explains Harvard Health Publications, chemicals called heterocyclic amines and aromatic hydrocarbons from, and they have been linked to cancer.
Reduce the formation of these compounds by putting chicken in foil on the grill. You still achieve a smoky taste, with a lower cancer risk.
Research published in Environmental Sciences Europe in April, 2017, showed that grilling food in aluminum did not transfer a dangerous amount of the metal to the food. The researchers do recommend avoiding acidic marinades, such as those with a lot of lemon, tomato or vinegar, as this can cause more aluminum to leach into the chicken and vegetables while cooking. The resulting meal would exceed healthy limits of aluminum intake for adults and children.
Was this article helpful?
Thank you for your feedback!