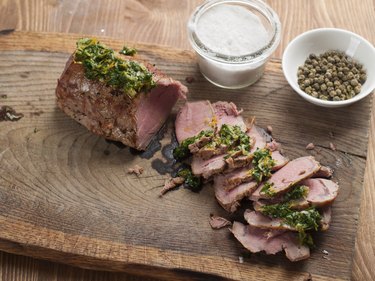 Beef tenderloin is a cut of meat from the tender loin of a cow. Cooking a beef tenderloin in a convection oven is similar to cooking in a conventional oven, except that the tenderloin will cook faster since a convection oven's fan circulates the heat evenly. Purchase the highest quality tenderloin and make an adjustment for the cooking time.
Step 1
Preheat the convection oven to 350 degrees F.
Step 2
Trim off any excess fat from the tenderloin. Brush the tenderloin lightly with vegetable oil.
Step 3
Season the beef tenderloin with your choice of seasonings. Salt, pepper, soy sauce and thyme are examples of seasonings that pair well with this cut of beef.
Step 4
Place the beef tenderloin on a shallow pan and place in the convection oven.
Step 5
Bake the beef tenderloin 25 to 30 percent less time than your recipe suggests, since convection ovens cook foods faster. If you are not working from a recipe, cook the tenderloin for 20 to 30 minutes, checking periodically. The USDA recommends a minimum internal temperature of 145 degrees F, as measured with a meat thermometer.
Things You'll Need
Vegetable oil

Cooking brush

Seasonings

Shallow pan

Tongs

Cooking thermometer
Tip
Allow to rest at least three minutes before slicing.