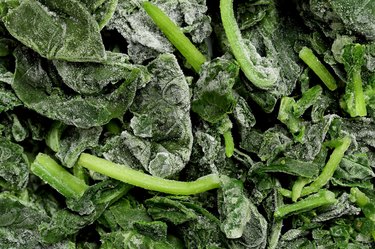 Spinach is a green, leafy vegetable that, according to the U.S. Department of Agriculture, is rich in calcium, potassium, folate, iron, magnesium, vitamins A, C and K, and the antioxidants beta carotene and lutein. While fresh spinach is often available year-round from your local grocer, you can also purchase it frozen — or freeze spinach fresh from your garden.
Wondering how to cook up a block of frozen spinach, and how long to heat it? For best results, don't thaw it out prior to cooking. Keep it frozen until you're ready to prepare it, and use a cooking method that enhances its flavor and nutritional value.
Here are some basic how-tos on heating up frozen spinach. Note: After the spinach is cooked through, you can enhance its flavor by adding butter or olive oil, salt, pepper, red pepper flakes, fresh lemon juice and/or minced or powdered garlic to taste.
Things You'll Need
Frozen spinach

Frying pan, saucepan or microwave-safe bowl with lid or plastic wrap

Spoon

Serving platter

Optional flavor-enhancers: Butter or extra-virgin olive oil, minced garlic, fresh lemon juice, salt, pepper, red pepper flakes
Cooking Frozen Spinach on the Stovetop
Step 1
Remove the frozen spinach from its packaging and place it in a frying pan.
Step 2
Heat the pan on the stove on low heat.
Step 3
As the spinach begins to defrost, stir it gently until it has been heated through. If the spinach was frozen in one large chunk, use a spoon to break the leaves into smaller pieces.
Step 4
While cooking times may vary depending on the amount of spinach you're preparing, it generally takes four to six minutes of cooking to properly defrost and heat up a package of frozen spinach on the stove. Once all of the leaves are heated through, remove the spinach from the pan and place it on a serving platter.
Step 5
As frozen vegetables are heated during the cooking process, they release a significant amount of liquid — which is high in vitamins and minerals. To maximize flavor and nutrition, pour the pan drippings over the spinach.
Tip
You can also cook frozen spinach by boiling it for 9 to 11 minutes in a saucepan on the stovetop, then draining it in a colander. According to the Tufts University Health & Nutrition Letter, boiling spinach does reduce its vitamin C content, since vitamin C is heat sensitive. But the oxalic acid in spinach is also heat sensitive — and oxalic-acid loss is beneficial because oxalic acid inhibits calcium absorption.
Cooking Frozen Spinach in a Microwave
Step 1
Remove the frozen spinach from its packaging and place it in a microwave-safe bowl. Cover the bowl using a sheet of plastic wrap if your bowl does not already have a cover.
Step 2
Place the covered bowl of spinach in the microwave. Set your microwave to medium and cook the frozen spinach for 6 minutes. Increase the cooking time by 3 minutes for each additional 10-ounce package.
Step 3
Remove the cover and stir the spinach. If it's not completely hot, replace the cover, return it to the microwave and continue cooking it at 30-second intervals until the spinach is hot all the way through.
Step 4
Remove the spinach from the bowl, place it on a serving platter, and pour any drippings that remain in the bottom of the bowl over the top of the cooked leaves.