Statins, bile acid sequestrants, cholesterol absorption inhibitors, fibrates and niacin are all types of cholesterol medications your doctor can prescribe. Each of these drugs has its own side effects, some more common than others. Although weight loss is rare, it is a possible side effect you should be aware of. If you experience weight loss that you suspect is related to your cholesterol-lowering drug, contact your doctor.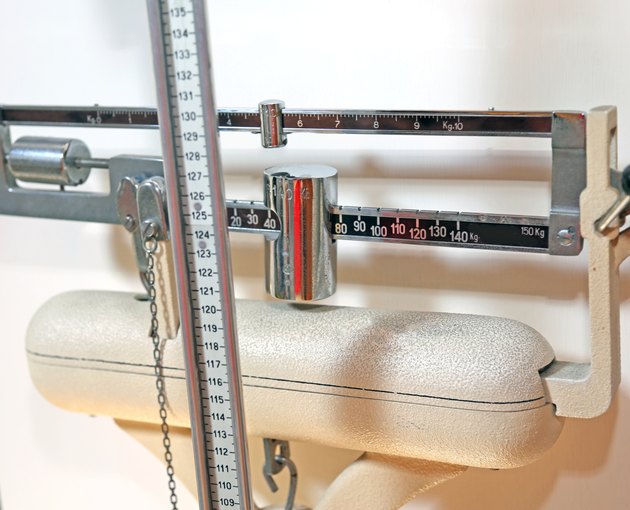 Cholesterol Medications
Every cholesterol medication works differently in your body to help reduce your cholesterol levels, thus reducing your risk of heart disease, heart attack and stroke. Statins reduce the production of cholesterol, while bile acid sequestrants bind to bile acids, excreting them from your body. Your liver uses cholesterol to produce these acids, therefore, cholesterol levels drop as the medication continues to excrete the acids from your body. Cholesterol absorption inhibitors reduce the amount of cholesterol your body absorbs. It is not known exactly how fibrates and niacin function, but niacin has the greatest impact on your HDL cholesterol, raising your levels within a healthy range. Your HDL is the "good" cholesterol, and must be high to reduce your risk of cardiovascular disease. Niacin is the most effective medication for increasing your HDL levels.
Weight Loss
Weight loss as a side effect of any cholesterol medication is a rare, but possible. Statins may contribute to interstitial lung disease, according to PubMed.gov. Overtime this condition can result in weight loss. The FDA warns of sudden weight loss associated with bile acid sequestrants. This may result from other side effects of these drugs, such as nausea, vomiting and stomach pain. Cholesterol absorption inhibitors can cause loss of appetite, which can result in weight loss. Drugs.com lists both weight gain and weight loss as possible side effects associated with fibrates. Niacin, a B vitamin, not only increases your HDL cholesterol, but also impacts your metabolism, converting carbohydrates into energy. Although it's available over the counter in supplement form, most doctors prefer the prescription forms of niacin when treating cholesterol levels. This form allows you to take the higher doses necessary while lessening the side effects over-the-counter niacin can cause.
Interstitial Lung Disease
This condition is perhaps the most serious cause of weight loss due to cholesterol medications. It scars your lung tissue, which inhibits the amount of oxygen your lungs receive and reduces the amount of oxygen in your body. The most common symptom is shortness of breath, which worsens as the disease progresses. If you take a statin, and notice a decline in your weight in combination with shortness of breath, report to your doctor immediately.
Treatment
Weight loss itself can be a direct side effect of the medication you take, as is the case with fibrates, or can result from other side effects of your medication such as vomiting or loss of appetite. You may simply require a change in dose, or be taken off the medication completely. In the case of interstitial lung disease, if the specific cause is not known, making you comfortable is the goal. If your doctor realizes it is due to your medication, he will remove the drug from your regimen. Your prognosis, though, depends on the severity of the disease upon diagnosis.