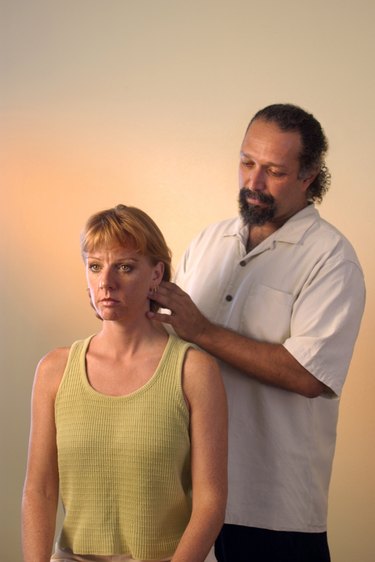 Soreness after a visit to the chiropractor is quite common. Usually, you experience soreness within the first few hours following an adjustment, and it rarely lasts more than 24 hours. However, very serious side effects have been reported following cervical adjustments in the area at the base of the skull. As the website Quackwatch notes, the sharp twisting of the head during a neck adjustment might cause vascular injuries, including strokes.
Minor Side Effects
A Belgium study from 2004, published by Manual Therapy and reported by Science Direct, elicited 465 responses from people who had undergone adjustments from 15 different chiropractors. Side effects were reported by 283 patients, or around 60 percent. The main side effects consisted of headaches, stiffness, soreness, discomfort and fatigue. These side effects usually began in the first four hours after the adjustment and dissipated within 24 hours.
Strokes and Chiropractic Adjustment
A 1996 report by the RAND Corporation reported that neck adjustments caused strokes or other injuries in 1.46 out of 1 million manipulations. The report also said only 11.1 percent of the neck adjustments were appropriate. In addition, the Rebuild Your Back website cites a 1992 report from the Stanford Stroke Center, which asked 486 members of the American Academy of Neurology how many of their patients in the previous two years had suffered a stroke within 24 hours of a neck adjustment. Of the 177 responses from the neurologists, 55 had seen such stroke patients. One patient died and 48 others suffered permanent brain damage.
Considerations
There is a body of evidence to show that chiropractic adjustments of the back can relieve some types of back pain. That is not the case for neck adjustments. So critics of neck adjustments question whether you should ever allow a chiropractor to adjust your neck, given the lack of evidence of effectiveness and risk of serious side effects. Samuel Homola at Quackwatch, states it bluntly: "Neck manipulations can be dangerous." He notes that massage, traction and other less invasive forms of therapy are available for neck pain.
Cautions
Critics of neck adjustments note that babies who are just months old are adjusted by some chiropractors. Homola states that so-called neck specialists or upper cervical chiropractors "who manipulate the neck of every patient they see should be avoided." The Science-Based Medicine website echoed the doubts about the value of neck adjustments, which are not based on any proven scientific theory. If you do get your neck adjusted and experience increasing soreness, headache, dizziness or illness, go to an emergency room.