Breakouts can occur when dirt, oils and dead skin cells become trapped in enlarged pores. It's a frustrating and sometimes painful condition that affects up to 50 million people in the United States, according to the Journal of the American Academy of Dermatology.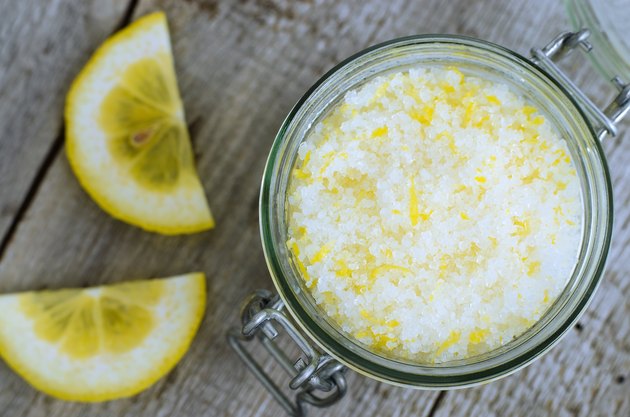 These skin impurities cause whiteheads, which are little white bumps, or blackhead, or enlarged dark pores. Acne can be difficult to remove and hard to prevent.
However, home remedies can be effective in acne management, as long as you're careful. Some might recommend baking soda or lemon juice as an at-home remedy for skin, but others warn that it might not be the best option.
Baking Soda for Skin
Baking soda has a fine, gritty texture that makes it ideal for gentle exfoliation, but its pH level can be a cause of concern. A skin's standard pH level is around 4.5 to 5, while baking soda's is 9. This means that scrubbing your skin with baking soda can be harsh on sensitive skin — eventually leading to breakouts.
If you have tried baking soda, and it doesn't leave your skin red or irritated, you can make a paste of baking soda and lemon juice and scrub skin gently with your fingers. A better idea: Pick out a professionally formulated drugstore cleanser that includes baking soda but is much less likely to irritate your skin.
Lemon Juice for Skin
Lemons are packed with vitamin C and citric acid, which naturally disinfect skin and remove oil. Lemons' natural acids can gently exfoliate and cleanse oily skin, leaving it toned and even.
Liquid lemon juice can penetrate buildup and remove impurities, leading to tighter, cleaner skin less prone to breakouts. Lemon juice can be added to any home acne remedy to give it a breakout-fighting boost. However, lemon juice, too, can cause redness and irritation, as well as dry out your skin because of its acidic nature.
Skin-Clearing Solutions
If you're looking for a way to clear up acne breakouts, try a method that is more likely to benefit your skin than irritate it.
Wash your face when you wake up, when you go to bed and after you get sweaty with a gentle cleanser. Resist the urge to wash it more than twice a day, as that can irritate your skin.

Wash your pillowcases and hats regularly, as they trap skin cells, bacteria and dirt and cause breakouts. Change your pillowcases two to three times a week if you have problems with clear skin.
Visit a dermatologist if nothing seems to be working. Their professional advice and treatment can help clear up your skin more quickly than at-home treatments.