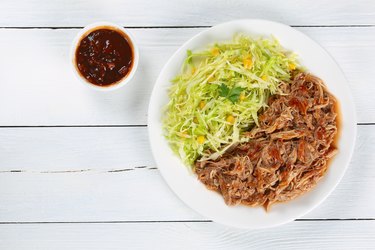 Baked, shredded chicken can serve many diverse culinary purposes. After seasoning it with spices and combining it with other ingredients, you have a tasty food to feature in tacos, soups, casseroles and salads.
Tip
To bake chicken breasts for shredding, coat them with olive oil and your choice of spices. Bake them in a 375 degree oven for 20 to 25 minutes.
What's the best way to shred chicken? Aside from baking it in the oven, you can cook it in a pressure cooker, or in a slow cooker. Other ways include grilling or cooking in a cast-iron skillet. Each cook likely has their own favorite method.
Baked, Shredded Chicken for Soup
On a chilly fall or winter evening, nothing is more appetizing than a hot bowl of spicy chicken tortilla soup. This shredded chicken in the oven recipe below is from Colorado State University.
1/4 teaspoon salt
1 1/2 teaspoon chili powder
1 1/2 teaspoon cumin
1 teaspoon garlic powder
2 tablespoons olive oil, divided
1 green bell pepper, diced
1 red, orange or yellow bell pepper, diced
1 medium onion, diced
2 cloves garlic, diced
32 ounces low sodium chicken broth
1 (15 oz) can diced tomatoes with green chilies
3 tablespoons tomato paste
2 (15 oz) cans black beans, rinsed and drained
4 cups water (more or less as desired)
Optional garnishes: plain yogurt, sliced avocado, chopped cilantro, crushed tortilla chips, shredded cheese
Preheat the oven to 375 degrees.
Mix the seasonings together in a bowl.
Put the chicken breasts on a baking sheet. Coat them with 1 tablespoon of the olive oil and half of the spice mixture.
Bake the chicken for 20 to 25 minutes until the temperature reaches 165 degrees.
Remove the chicken from the pan and shred with two forks.
In a soup pot, heat the other tablespoon of olive oil. Saute the peppers, onions and garlic for five minutes. Stir in the other half of the spices and shredded chicken.
Add the other ingredients and bring to a boil. Reduce heat to low and simmer for 30 minutes uncovered.
Serve soup into bowl and add garnishes.
Nutritional Information per serving:
Calories: 206
Protein: 22.7 grams
Total fat: 5.7 grams
Total carbohydrates: 16.6 grams
Saturated fat: 1.0 grams
Dietary fiber: 4.7 grams
Cholesterol: 40.4 milligrams
Sodium: 299.1 milligram
Shredded Chicken in Slow Cooker
Slow-Cooker Shredded Salsa Chicken Tacos
1 teaspoon cumin
1 16-ounce package frozen corn
1 16-ounce jar salsa
1 14.5-ounce can black beans, drained and rinsed
4 chicken breasts, thawed
Mix the first four ingredients in a bowl.
Put the chicken breasts on the bottom of the slow cooker, and pour the mixture on top.
Cook on high for 4 hours or on low for 6 to 7 hours until chicken reaches a temperature of 165 degrees.
Shred and serve on warm whole wheat tortillas.
Recipe makes 15 1/2-cup servings.
Nutritional information per serving:
120 calories
1.5 grams of fat
13 grans carbohydrate
16 grams protein
310 milligrams sodium
While the recipe doesn't mention toppings, you could omit the black beans and frozen corn and put shredded lettuce, chopped tomatoes and shredded cheese on top of the chicken. Add taco sauce and sour cream if desired.
Chicken Estimates for Recipes
Aside from tacos and tortilla soup, innumerable dishes call for shredded chicken. The possibilities include chicken enchilada casserole, pasta dishes, chicken gumbo, barbecue chicken sandwiches, chicken pot pie, chicken chili and chicken stir-fry.
When a recipe calls for cooked chicken, how do you know how much chicken to buy and prepare? A cup of shredded or cubed chicken is roughly one chicken breast, or 5 1/2 ounces of deboned chicken, says Texas A&M Agrilife Extension.
When using a whole chicken, each pound of uncooked chicken will render 1 cup of cooked, deboned chicken. For example, a 3-pound fryer will provide approximately 3 cups of cooked chicken.
Many people will pick up a rotisserie chicken from the supermarket to save time when they plan to make a recipe that calls for cubed or shredded chicken. On average, rotisserie chickens weight about 2 pounds. This will supply 2 cups of white meat, and 1 cup of dark meat.