If you have experienced a sore throat after drinking alcohol, there may be a connection. Excess alcohol can cause dehydration and inflammation in the throat, and might even impair your immune system. In addition, consuming an alcoholic drink when you already have a sore throat may worsen symptoms. Also, exposure to smoke while drinking can lead to a sore throat. While most sore throats resolve with rest, fluids and time, a persistent or severe sore throat needs evaluation by a doctor.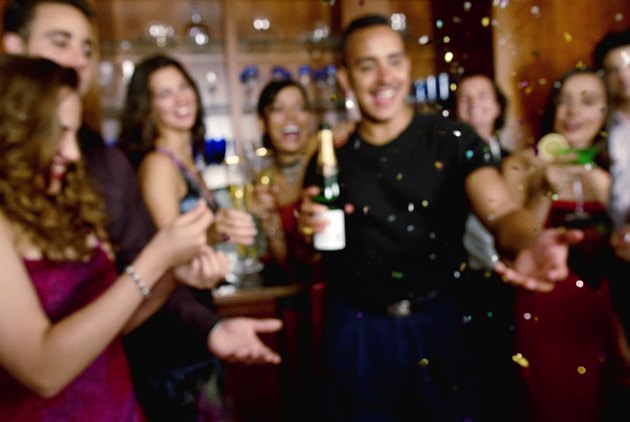 Irritation and Dehydration
Drinking alcohol on a regular basis may irritate the throat and inflame sensitive throat tissue, making it easier for a sore throat to develop. Excessive alcohol can lead to dehydration, causing throat tissues to dry out and become irritated. Sometimes the real culprit of a sore throat may be the environment or activities connected to drinking -- cigarette or cigar smoke, dry indoor air, or even talking loudly in a noisy restaurant.
Immune Factors
You may have heard that alcohol will ease a sore throat, but alcohol may only temporarily relieve the discomfort. In fact, too much alcohol could lead to dehydration, which has the potential to worsen the sore throat. According to the National Institutes of Health (NIH), excess alcohol can weaken your immune system, making you more likely to get sick if exposed to bacteria or viruses. Excess alcohol appears to impair the action of the white blood cells as they try to fight infections and injury. According to the NIH, immunity is reduced as a result of long-term frequent alcohol consumption as well as short-term, excessive drinking.
Immunity Research
However, research is mixed on the connection between alcohol and immunity. According to a review published in the October 2007 issue of "British Journal of Nutrition," moderate intake of alcohol -- particularly wine -- may provide some benefits to the immune system. A study published in the May 2002 issue of "American Journal of Epidemiology" examined the drinking habits of over 4200 adults, and confirmed that those drinking beer and hard liquor had no increased risk of the common cold. However, regular wine drinkers -- those drinking 1 to 2 glasses daily -- had a lower risk of the common cold. However, this doesn't mean that wine will effectively treat a sore throat, and additional research is needed to clarify how factors such as alcohol type and quantity, health status, gender and drinking patterns relate to immunity.
Warnings and Next Steps
While heavy drinking could lead to a sore throat, alcohol in moderation -- no more than one drink a day for women and two drinks daily for men -- may not contribute to a sore throat unless you are exposed to cigarette smoke or other factors that cause a dry or strained throat. In addition, alcohol is not known to cure a sore throat. Drinking heavy amounts of alcohol has been linked to disorders and diseases of the throat, including cancer, and smoking only increases these risks. If you have a sore throat, drink plenty of water and soothing, warm liquids such as tea or broth. Seek medical care if you have difficulty swallowing, or if you have a high fever, white or yellow patches on your tonsils, hoarseness or a sore throat that lasts more than two weeks. If you have any health problems, speak with your doctor about whether or not it's safe for you to drink moderately. If you drink, stay responsible and don't drink and drive.
Reviewed by: Kay Peck, MPH, RD