Gastritis occurs when the lining of your stomach becomes inflamed. This includes sudden inflammation or chronic inflammation that lasts for a long time and can cause stomach pain and discomfort after eating. A previous misconception was that aspects of the diet, such as spicy foods cause gastritis, but according to the National Institutes of Health, the Helicobacter pylori bacteria are usually to blame. Certain dietary factors, however, such as consuming spicy foods and caffeine, can make gastritis worse.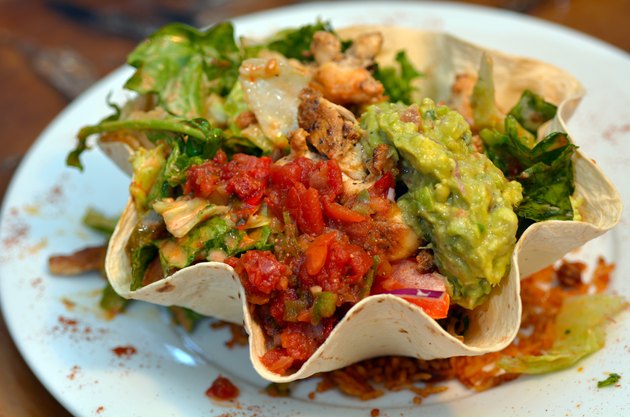 Stomach Inflammation
Your stomach lining makes acids and enzymes that help break down the foods that you eat. It produces mucus to protect itself from stomach acids also. In gastritis, the inflammation can reduce your stomach lining's ability to make enough enzymes, acids and mucus. Symptoms vary from person to person, but you may experience bloating, nausea, abdominal pain, loss of appetite, vomiting and heartburn. Or, you may not have any symptoms at all.
Helicobacter Pylori and Gastritis
H. pylori is a common type of bacteria that can cause gastric problems by damaging the lining of your stomach. You can get H. pylori from person-to-person contact, or through contaminated water or food. Your doctor can perform a special breath test to detect H. pylori, or he can examine a bacteria sample from your stomach or esophagus. H. pylori is treated with antibiotics. Other causes of gastritis include -- but are not limited to -- long-term use of non-steroidal anti-inflammatory drugs such as ibuprofen, excessive alcohol consumption and auto-immune disorders.
Spicy Foods and Caffeine
Although spicy food and caffeine do not cause gastritis, you may notice that it triggers or makes symptoms worse. Spicy foods and caffeine can irritate the lining of the stomach, which is already inflamed if you have gastritis. Any additional irritation can make symptoms more prominent. It's common to avoid spicy foods and caffeine if you have gastrointestinal issues such as gastritis. You may need to limit or avoid foods with chili powder, black and red pepper, garlic powder, hot peppers and other strong spices, as well as caffeinated beverages.
Other Foods to Avoid
High-fat foods and foods that contain chocolate may also irritate your stomach. You may want to limit or avoid whole milk and chocolate milk, hot cocoa, high-fat meats such as sausages and spicy cheese such as pepper jack. Alcohol, orange and citrus juices, tea -- regular and decaf -- and black and green tea with or without caffeine may also irritate your stomach Assess your tolerance since not everyone will experience the same triggers with the same degree of severity.