Although you might be tempted to try a crash diet to lose weight quickly, you probably won't get the results you want. These fad diets aren't healthy, and if you manage to lose any weight other than water weight, it's likely to come right back again after you return to normal eating. You're better off following a balanced, reduced-calorie diet combined with exercise to lose weight at the recommended rate of 1 to 2 pounds per week. Check with your doctor before starting any new diet or exercise program to make sure it's safe for you.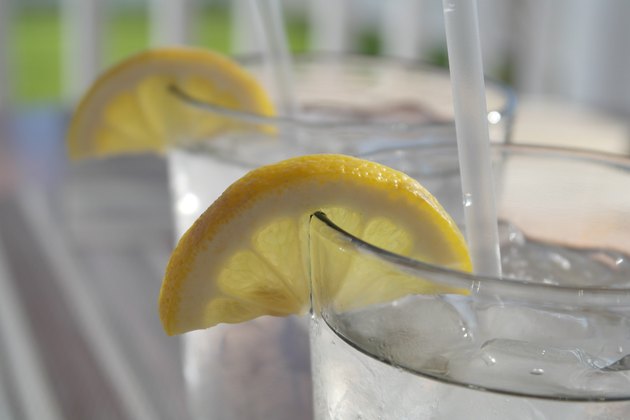 Crash Diet Characteristics
Crash diets typically restrict you to a few foods or beverages, such as grapefruit, cabbage soup, baby food, vegetables or lemonade, and drastically cut the number of calories you consume each day. Detox diets and cleanses, which often fall into this category as well, are usually under 1,200 calories per day, the minimum calories recommended per day for women and far below the 1,800-calorie-per-day minimum recommended for men. Eating so few calories can cause your metabolism to slow, making it more likely you'll regain any weight you lose on one of these restrictive regimens.
Four-Day Fat Loss Potential
Four days of dieting isn't likely to lead to much, if any, fat loss. First, you'll lose water weight, and at the same time, your glycogen -- how your body stores extra glucose for a quick energy source -- will be used for fuel. During the first few weeks of weight loss, you may lose more muscle than fat, especially if you're not exercising while you cut calories. Adding resistance training helps to limit muscle loss.
The percentage of weight loss that's actually body fat increases over time, and it will be greater after a few weeks of dieting than during the first few days, according to an article published in Obesity Reviews in 2010. Once you return to regular eating habits, your body will rebuild your glycogen stores, and you'll regain most, if not all, the water weight, because water is stored along with the glycogen. After a crash diet, when you begin to eat normally again, you may also gain back body fat, potentially leaving you with a higher body fat percentage than you had before starting the diet.
Crash Diet Risks
Diets under 1,000 calories a day can be dangerous, so you should only follow one under a doctor's supervision. With just a few calories, nutrient deficiencies are likely after as little as one week; additionally, crash dieting can damage your organs permanently. People on very-low-calorie crash diets sometimes experience dizziness, irritability, faintness, muscle cramps and even heart attacks. While the most serious of these side effects, including death, are most likely in those with underlying health conditions, you shouldn't follow this type of diet for any length of time or repeatedly resort to a crash diet for weight loss.
A Healthier Alternative to Crash Diets
A healthy diet, which doesn't eliminate any food group, is the best diet plan. To determine the number of calories you need to maintain your current weight if you're a man, multiply your weight in pounds by 14 or 15 if you're primarily sedentary, or by 16 if you're somewhat active. If you're a woman, multiply your weight in pounds by 12 or 13 if you're sedentary and 14 if you're more active. This number provides a starting point, then you can create a calorie deficit of 500 to 1,000 calories per day through a combination of diet and exercise, which is what you need to lose 1 to 2 pounds per week. If subtracting calories takes you too low -- below 1,200 calories for women and 1,800 for men -- you'll need to exercise more or cut fewer calories and settle for a smaller loss each week.
Limit sodium, trans and saturated fats, sugars and processed foods, and eat a mix of fruits, vegetables, whole grains, healthy fats, low-fat dairy and lean proteins. Try to fit in two strength-training sessions each week to build muscle. In addition, shoot for 150 to 250 minutes of moderate-intensity exercise each week, as recommended by the American College of Sports Medicine, to help you reach your weight loss goals. You're exercising at a moderate rate if you can talk but not sing. If you're unsure how to plan an exercise program, consult a fitness professional for assistance.