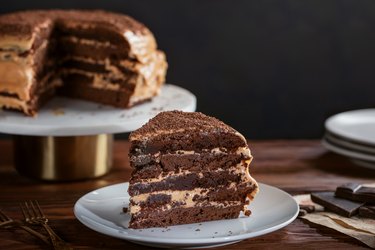 Chocolate cake is a classic American dessert. Of course, it's usually high in fat and calories. Those who are trying to avoid extra calories or want a lighter option may think that homemade chocolate cake is out of the realm of possibility.
However, with just a little bit of creativity, you can make a chocolate cake that is light and fluffy and doesn't contain butter or oil. By knocking out the butter and the oil from the recipe, you can make a cake that has less fat and fewer calories and tastes nearly as good.
Tip
Replace butter and oil in your cake recipe with low-fat vanilla yogurt or applesauce as the moisturizing ingredient. The yogurt gives the cake a fluffy feel and keeps it as moist as canola oil. The yogurt is a bit heavier than the apple sauce, but either ingredient will make your chocolate cake light and fluffy.
Chocolate Cake Recipe With Yogurt
Things You'll Need
3 cups flour

2 cups sugar

1 teaspoon salt

2 teaspoons baking soda

2/3 of a cup of cocoa


1 teaspoon of vanilla extract


2 teaspoons of vinegar


2/3 cup of low-fat vanilla yogurt


2 cups of water


2 mixing bowls

Mixing spoon

Fork

Cake pan
Preheat the oven to 350 degrees Fahrenheit.
Combine flour, sugar, salt, baking soda and cocoa and mix well.
In a separate bowl, mix vanilla extract, vinegar, low-fat vanilla yogurt and water.
Combine the liquid ingredients with the dry ingredients.
Mix this well with a fork for at least 10 minutes.
Pour into a cake pan and bake for 75 minutes.
Chocolate Cake Recipe With Applesauce
Things You'll Need
1 1/2 cups of flour

1 teaspoon of salt

1 cup of sugar

1/4 cup of cocoa

1 teaspoon of baking soda

1 tablespoon of vinegar

1/2 cup of applesauce

1 cup of cold water

Mixing bowl


Mixing spoon

8x8 cake pan
Preheat the oven to 350 degrees Fahrenheit.
Mix flour, salt, sugar, cocoa, baking soda, vinegar, applesauce and water.
After you've stirred this for 5 minutes, pour the mixture in an 8-by-8-inch baking pan.
Bake the cake for 75 minutes.