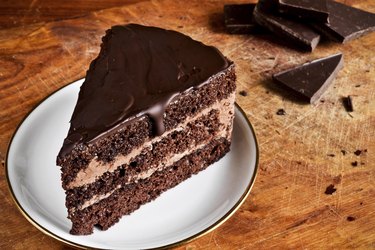 Chocolate cake is a classic American dessert. Of course, it usually is heavy in fat and calories. Those who are trying to avoid extra calories or want a light diet may think that homemade chocolate cake is out of the realm of possibility. However, with just a little bit of creativity, you can make a chocolate cake that is light and fluffy and does not contain butter or oil.
Reasons For Light Chocolate Cake
The idea of a chocolate cake with thick icing and a substantial yellow cake rich with eggs, butter and oil may be the ideal dessert for many people who want to celebrate a birthday or a great dessert. But when you are trying to maintain good overall conditioning or lose weight, you may be willing to sacrifice a tad of the richness of the cake to keep it a bit healthier. By knocking out the butter and the oil from the recipe, you can make a cake that has less fat and calories and may taste nearly as good.
Vanilla Low-Fat Yogurt And Apple Sauce
Use vanilla low-fat yogurt or apple sauce instead of oil as the moisturizing ingredient in your chocolate cake. The yogurt gives the cake a fluffy feel and keeps it as moist as canola oil. The yogurt is a bit heavier than the apple sauce, but either ingredient will make your chocolate cake light and fluffy.
Cake Recipe 1
Combine 3 cups of flour, 2 cups of sugar, 1 teaspoon of salt, 2 teaspoons of baking soda and 2/3 of a cup of cocoa. Mix this well. In a separate bowl, mix 1 teaspoon of vanilla essence, 2 teaspoons of vinegar, 2/3 cup of low-fat vanilla yogurt and 2 cups of water. Combine the liquid material with the dry ingredients. Mix this well with a fork for at least 10 minutes. Pour into a cake pan and bake at 350 F for 1 1/4 hours.
Cake Recipe 2
Mix 1 1/2 cups of flour, 1 teaspoon of salt, 1 cup of sugar, 1/4 cup of cocoa, 1 teaspoon of baking soda, 1 tablespoon of vinegar, 1/2 cup of apple sauce and 1 cup of cold water. After you have mixed this for five minutes, pour the mixture in an 8-by-8-inch baking pan. Bake the cake for 1 1/4 hours at 350 F.