The heat of the summer is a time to shed heavy winter sweaters and wear more skin-revealing clothing such as tank tops. However, if you are insecure about your weight or body shape, this can cause unnecessary anxiety. Choosing the right undergarments and a slimming tank top design can help you look thinner and feel more confident.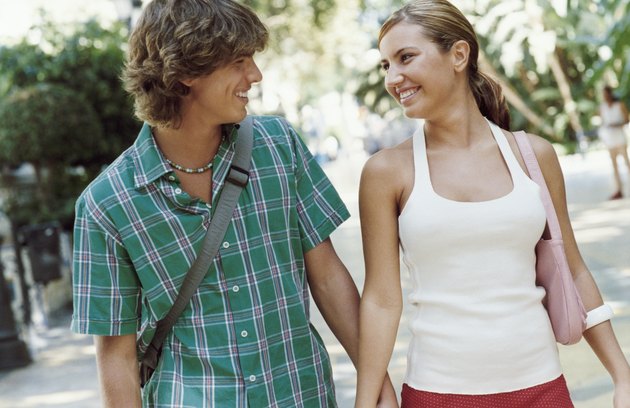 Step 1
Pick dark solid colors, graphic designs or vertical stripe-patterned tank tops. Avoid tank tops that have horizontal stripes. This pattern can make your torso appear wider than it is.
Step 2
Choose a tank top that is more covered at the neckline. Wear a high V-neck or round-neck top with wide straps instead of a low neckline and thin spaghetti straps. Showing less skin can help make you appear slimmer.
Step 3
Wear a tank top that is made of a mix of stretchy material such as lycra. This material helps the tank top retain its shape and will also compress your abdomen slightly for a leaner look. Ensure that the tank top is the right size; wearing loose clothing will make you look larger.
Step 4
Choose the right bra for the correct fit and support. Wearing a bra that fits you well under your tank top will make you look thinner, particularly if you have heavy breasts. Get a professional bra fitting if you are unsure of what size and type of bra is best for your body.
Step 5
Compress your abdomen fat slightly by wearing slimming undergarments. These include high-waisted panties and body-shaping leggings. Ensure that your jeans, pants or skirt are not too tight at the waist and hips. This reduces fat bulges over your bottoms and gives your waist a more streamlined appearance.
Tip
Some brands may vary in their bra cup and band size; always try on bras before buying them.
If you gain or lose weight, your bra size may change, and you will need to purchase new undergarments that fit properly.
Tank tops that have ruffles, lace and other embellishments can help hide problem areas such as belly fat.
Warning
Avoid shaping and compression garments that are too tight, as this can restrict healthy blood flow.
Do not layer with body-shaping garments if you feel hot. Stay cool and wear loose, comfortable clothing when temperatures rise during the summer months.