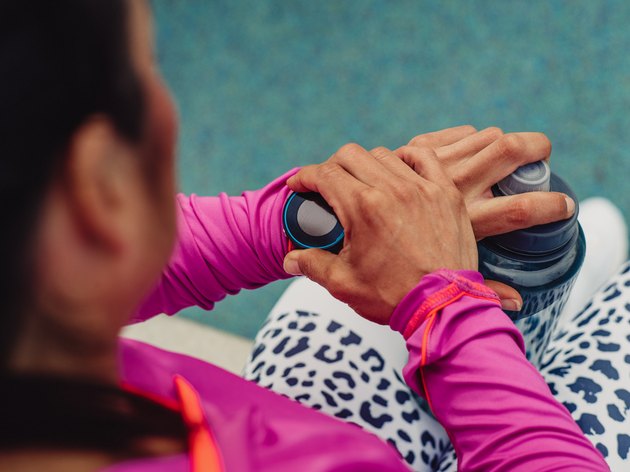 Having a lot of body fat doesn't just make it harder to fit into your jeans. Too-high levels are tied to serious health risks like high blood pressure, diabetes, heart disease and even some types of cancer, per the American Heart Association. But what's the best way to bring your body fat levels down into the healthy range?
Trying to lose body fat can sometimes feel complicated. But the best tools for getting leaner happen to be fairly straightforward — and anyone can use them. Here's a look at why some of us end up with excess body fat, plus the most effective ways to lose it for good.
The Skinny on Body Fat
Before diving into the best ways to lose fat, it helps to understand a little bit about how we gain fat in the first place — and what our bodies do with it. Basically, fat storage happens when we consume more calories than our bodies need.
When we eat, our bodies release the hormone insulin. Insulin helps the body's cells absorb glucose — or blood sugar — and fatty acids from food to be used as energy, explains board-certified obesity medicine physician Jaime Harper, MD. Any extra calories that don't need to be used as energy get saved in our fat cells for later.
Did you know that keeping a food diary is one of the most effective ways to manage your weight? Download the MyPlate app to easily track calories, stay focused and achieve your goals!
Fat storage is an evolutionary mechanism that helped our ancestors survive in times of famine: When there wasn't much food around, the body could stay fueled by burning through its fat stores. We still burn fat the same way today whenever we use up more energy than we take in.
"When we haven't eaten in a few hours or begin to exercise, the body's hormonal state signals to fat cells to release some fat for energy," says Georgie Fear, RD, CSSD, author of Lean Habits for Lifelong Weight Loss.
Enzymes break down stored fat into fatty acids and other components, which are then released from the cell and taken up by other cells to burn for energy. Burning the fatty acids produces water and carbon dioxide, which exit the body through our urine, sweat and breath. Over time, that adds up to body fat — and pounds — lost.
Losing Weight vs. Losing Fat
When most people say that they want to lose weight, what they really mean is that they want to lose fat. The body's total weight is made up of water, muscle, bones and fat, Dr. Harper explains. Fat is the squishy stuff that sits beneath the surface of the skin and makes your jeans feel tight. It's also what ups the risk for serious health problems, especially if the fat accumulates around your internal organs.
The thing is, there are ways to lose weight that don't involve losing much actual fat. Sweating a lot, for instance, can cause you to lose several pounds of water weight.
"But it's just fluid weight. In that case, fat and weight loss aren't the same thing," says Anis Rehman, MD, associate program director of the Endocrine Fellowship at Southern Illinois University School of Medicine.
As soon as you consume the lost fluids, your weight will bounce right back up to its usual number. But in order to actually get leaner and improve your health, you need to lose body fat.
How Much Body Fat Is Healthy?
No two bodies are exactly alike, and everything from your age, to your hormones and genetics all play a role in how much body fat you have — and how easy or difficult it is to get leaner. Men also tend to have less body fat than women, and athletes generally have less body fat than non-athletes.
Acceptable: 25-31%
Fitness: 21-24%
Athletes: 14-20%
Essential: 10-13%
Acceptable: 18-24%
Fitness: 14-17%
Athletes: 6-13%
Essential: 2-5%
Fat Loss for Men vs. Women
There are lots of factors involved in how quickly (or slowly) a person is able to lose fat. But one of the biggest is sex. Men have higher levels of the hormone testosterone, which promotes the growth of lean muscle tissue and can make fat loss quicker and easier. One study published August 2018 in Diabetes, Obesity, and Metabolism found that when subjects ate the same low-calorie diet for eight weeks, male subjects lost an average of 26 pounds while female subjects lost an average of 22.
Sex also determines where your body is most likely to store much of its fat. "For men the main area is the stomach. For women, it's the breasts, bum and thighs," says Wilcock.
That's not to say that women can't lose body fat or reach their desired body fat percentage. But they might have to work a little bit harder.
The Cleveland Clinic recommends women do 30 minutes of resistance training at least twice a week to boost muscle mass. And of course, pay close attention to how many calories you're taking in. While everyone's calorie needs are a little different, women may need to eat between 1,200 and 1,800 calories daily to lose weight. But keep in mind that the right number depends on a wide variety of factors, including your age, current weight and activity level.
Measuring Fat Loss
When you're trying to lose fat, it helps to know where exactly you're starting from. While a typical bathroom scale can tell you how much you weigh, it's not the best tool for figuring out your body fat percentage or tracking your fat loss.
For that, you'll need body fat calipers. This handheld device is designed to measure the thickness of skin at the biceps, triceps, low shoulder blade and hip, which experts can use to calculate your body's percentage of fat. Since it's tough to take accurate skinfold measurements at home, your best bet is to have it done by a personal trainer or health practitioner.
Calipers aren't the only tool for measuring body fat, but they're widely considered to be the simplest and least expensive, per the ACE. The problem is, while calipers are fairly accurate, they're not foolproof.
If you're looking for a super precise measurement, consider getting a dual x-ray absorptiometry (DEXA) scan. These scans send small electrical currents through the body to give a super accurate analysis of a person's weight, body fat, muscle mass and water. "It's considered the gold standard in measuring body composition, but it is expensive, not convenient and it does give off a small dose of radiation," Dr. Harper says.
Bottom Line: The Best Way to Burn Fat
Our bodies store fat when we take in more energy than we use up. So in order to lose fat, it simply comes down to reversing that process.
By using more calories than you take in, your body will burn fat from its fat stores to cover the rest of your energy needs. Eating a lower-calorie diet is the most effective way to make that happen — and while when you eat might play a role, the most important factor is what you eat. But you can get an extra boost by exercising regularly, especially with interval or strength-training workouts.
In a nutshell: "Usually, a low-calorie diet along with exercise results in fat loss," Dr. Rehman says.