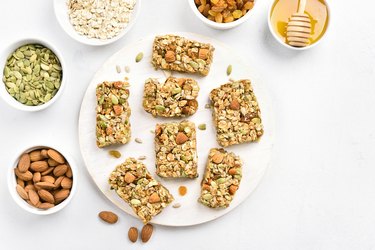 Granola bars are a convenient snack that people like to eat on the go. You can buy them in just about any supermarket in boxes of six or 12 servings. Nature Valley is a brand of snacks owned by General Mills, which produces a large family of products.
Seven types of bars are made by Nature Valley, according to the Nature Valley product page: crunchy bars, sweet and salty bars, protein bars, fruit and nut bars, layered granola nut bars, wafer bars and nut bars. Within each category, there are also subcategories offering different flavors and combinations of nuts and fruits.
Nature Valley Granola Bars Nutrition
According to Nature Valley product data, the calorie content of Nature Valley granola bars can be anywhere from 130 to 290 calories for a serving size of one to two bars, as stated on the product nutrition label.

That makes these snack bars great for a bite in the middle of the day or even as a supplement at the breakfast table. The fewest calories can be found in the crunchy line of products, according to nutrition information provided by Nature Valley.
The Nature Valley Oats 'n Honey bars have 190 calories per serving and are considered an energy-dense food. Because the serving size is 42 grams, you're getting about 4.5 calories per gram.
Calorie count depends on what has been added to the granola bar. Some ingredients boost the fat content to high levels. The fat content ranges between 2.5 and 19 grams per serving, with the XL Protein bars having the highest fat content.
The bar with the most calories is the Nature Valley XL Mixed Nut bar, which contains 290 calories and 19 grams of total fat per per serving. The one with the fewest calories is the Nature Valley Cranberry and Pomegranate Fruit and Nut bar, which contains 130 calories and 2.5 grams of total fat per serving.
It should be noted, however, that the fat content of the granola bars with nuts is mainly monounsaturated fat, which is healthy. Granola bars are generally very low in trans fats and saturated fats.
Energy-dense foods are typically not as filling as low energy-dense foods, and you're advised not to eat too much of them as you might get more calories than you need. This means that Nature Valley granola bars' weight-loss benefits depend on how you use the bars.

The carbohydrate content of Nature Valley bars ranges from 14 to 32 grams per serving. Ingredients in the bars like dried fruits and added sugars boost their carbohydrates. For example, the USDA listing for Nature Valley Chewy Trail Mix bars shows that one bar contains 25.3 grams of carbs and 15 grams of sugars. The Mayo Clinic notes that you should get between 225 and 325 grams of carbohydrates per day.
Most Nature Valley bars don't have a lot of protein. For example, the Oats 'n Honey bars contain 3 grams of protein per serving. However, the Nature Valley XL Protein bars provide 15 grams of protein per serving. These snack bars have enough dietary fiber to meet your daily needs, though, so you can use them as the main source of your dietary fiber.

Nature Valley bars are also low in sodium and cholesterol, which makes them unique among packaged snacks. Nature Valley Oats 'n Honey bars, for example, only contain about 180 milligrams of sodium per serving, while the recommended daily intake of sodium is 2,300 milligrams or less, according to the Food and Drug Administration.