Diabetes mellitus is a metabolic disorder in which inadequate production of the hormone insulin or a resistance to its actions in the body can lead to high blood sugar levels. Insulin is needed to get sugar into cells of the body, where it is used for energy. When sugar cannot get into cells, it remains in the blood at high levels. Complications of diabetes arise from long-term exposure to high blood sugar. The cardiovascular, nervous, visual and urinary systems are most commonly affected by chronically high blood sugars.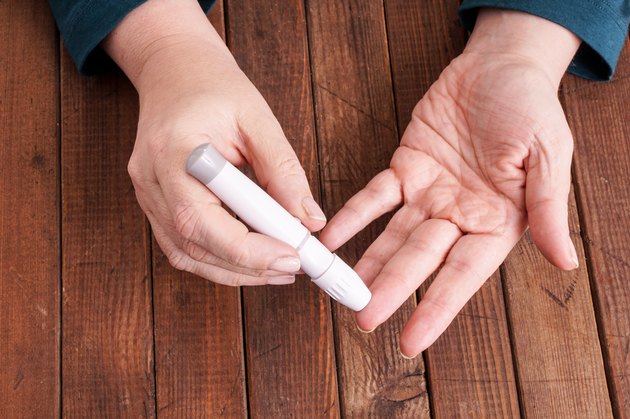 Cardiovascular System
The cardiovascular system includes the heart and blood vessels. High blood sugar and increased blood fat levels commonly found in people with diabetes contribute to fatty deposits called plaques on the inner walls of blood vessels, causing inflammation. This leads to decreased blood flow and hardening of the blood vessels called atherosclerosis. High blood sugar also results in glycation, where sugars attach to proteins, making them sticky. This occurs on proteins found in blood vessels, also resulting in inflammation. When this occurs in the heart, it can lead to cardiovascular disease. According to a 2016 report from the American Heart Association, 68 percent of people with diabetes older than 65 die of heart disease.
Nervous System
Nerve damage called diabetic neuropathy is common in people with diabetes. Symptoms typically appear after several years but may be present when diabetes is diagnosed, as the disease may have gone undetected for many years. Diabetic nerve damage known as peripheral neuropathy is most common in the legs and feet. According to a 2005 statement by the American Diabetes Association, up to 50 percent of people with diabetes have peripheral neuropathy. This typically starts as numbness or tingling that progresses to loss of pain and heat and cold perception in feet or hands, making it difficult to sense an injury. Another type of nerve damage called diabetic autonomic neuropathy affects nerves regulating the heart, blood vessels, and digestive and other systems. This condition can lead to problems with blood pressure, heart rhythm and digestion, among others.
Visual System
The Centers for Disease Control and Prevention reports that in 2005 to 2008, 28.5 percent of adults with diabetes 40 years or older had diabetic retinopathy. This eye disease is caused by high blood sugar levels leading to blood vessel damage and fluid leakage in the vision-sensing part of the eye called the retina. Diabetic macular edema is a complication of diabetic retinopathy wherein the center of the retina, which is responsible for detailed vision, is affected. These conditions can eventually lead to blindness. High blood sugar can also lead to an increased risk of cataracts and glaucoma. These eye disorders occur earlier and more often in people with diabetes, compared to those without the disease.
Urinary System
In 2011, CDC reported that diabetes was the primary cause of kidney failure in 44 percent of people newly diagnosed with the condition. High levels of blood sugar can damage the kidneys. The result is an illness known as diabetic nephropathy that can eventually lead to kidney failure. High blood sugar levels initially damage the blood vessels in the kidneys. As diabetic nephropathy progresses, there is thickening of kidney tissue and scarring. When the kidneys are damaged, they cannot filter the blood properly. This results in waste and fluid buildup in the blood, and leakage of important blood proteins into the urine.
Is This an Emergency?
To reduce the risk of spreading COVID-19 infections, it is best to call your doctor before leaving the house if you are experiencing a high fever, shortness of breath or another, more serious symptom.