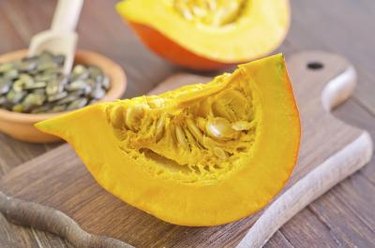 Pumpkin seed, or pepita, oil has several health benefits. A 2008 study published in the journal "Phytotherapy Research" revealed that supplementing with the oil can lower both cholesterol and blood pressure thanks to its phytoestrogens and phytosterols, for example. The oil also is a rich source of omega-6 fatty acids and vitamins E and K.
Omega-6 Fatty Acids
Pumpkin seed oil contains linoleic acid, an omega-6 fatty essential fatty acid. The omega-6 fatty acids are crucial for normal growth and development and for brain function, and they help to stimulate hair and skin growth, regulate metabolism, and maintain bone health and the reproductive system, according to the University of Maryland (UM) Medical Center.
Phytosterols
The phytosterols in pumpkin seed oil can help to lower blood cholesterol. Phytosterols work by interfering with cholesterol absorption in the intestines, according to the British Journal of Nutrition.
Vitamin E
The tocopherol in pumpkin seed oil is a powerful antioxidant, also known as vitamin E. This helps the body use vitamin K. It also has a role in the formation of red blood cells, according to the UM Medical Center.
Vitamin K
Pumpkin seed oil is a source of vitamin K. This vitamin can help promote strong bones in elderly people. It's needed by everyone, reveals the UM Medical Center, because blood would not stick together, or coagulate, without it.
Phytoestrogens
The oil of pumpkin seeds is a rich source of phytoestrogens, a property that helped lower to lower systolic and diastolic blood pressures in rats during a 12-week study on pumpkin seed oil supplementation, according to M. Gossell-Williams, who authored the 2008 study published in "Phytotherapy Research."