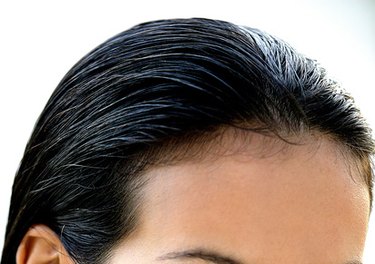 Receding hairlines are a common problem for both men and women, with issues being more common in men. Receding hairlines can be caused by a variety of factors ranging from genetics and aging to hormones and disease. Depending on the cause of your receding hair, there are several options available on the market to help regain your original hairline.
Step 1
Apply over-the-counter minoxidil to your scalp. Minoxidil, more widely known as Rogaine, comes in both 2 percent and 5 percent strengths, with 2 percent solutions being recommended for treating female hair loss. Minoxidil works as a vasodilator increasing blood flow to the scalp and is also believed to activate prostaglandin endoperoxide synthase-1, which can cause revitalize follicles and help regrow hair. Minoxidil only works if you continue using the product indefinitely. Once you stop using the product, the results will diminish, and your hair will return to its original state.
Step 2
Talk to your doctor about anthralin. Antharalin, also known as Dritho-Scalp, is a medication that is specifically designed to treat a scalp condition known as psoriasis. When treating patients with the product, doctors noticed that in some patients the medication caused new hair growth, which has allowed it to grow in popularity as a prescription for hair loss. According to the Mayo Clinic, it can take as many as 12 weeks of daily application to see hair growth results from the product.
Step 3
Get a prescription for finasteride. Finasteride, commonly sold as Propecia, is designed specifically for male hair loss. When taken orally, finasteride blocks testosterone from converting into dihydrotestosterone (DHT). DHT binds to the androgen receptors of the hair follicle, causing hair loss. Women should never handle finasteride, especially if pregnant. Finasteride can be absorbed through the skin, potentially causing serious birth defects to a male fetus.
Step 4
Research corticosteroid treatments. For receding hair because of inflammation, corticosteroids may be prescribed by your doctor. Corticosteroids can be used through a topical cream or can be injected directly into the affected area. Corticosteroids work by reducing inflammation around the hair follicles, restoring the ability of the hair follicles to grow new hair strands.