Cortisol is a naturally occurring hormone that is secreted by the adrenal glands located on your kidneys. The levels of cortisol within your body fluctuate normally throughout the day and night. If you develop persistent cortisol imbalances such as Cushing's syndrome, a hormonal disorder caused by prolonged exposure of the body's tissues to cortisol, or Addison's disease, caused by the inability of the adrenal glands to make sufficient amounts of regulating hormones including cortisol, you can develop a number of different symptoms.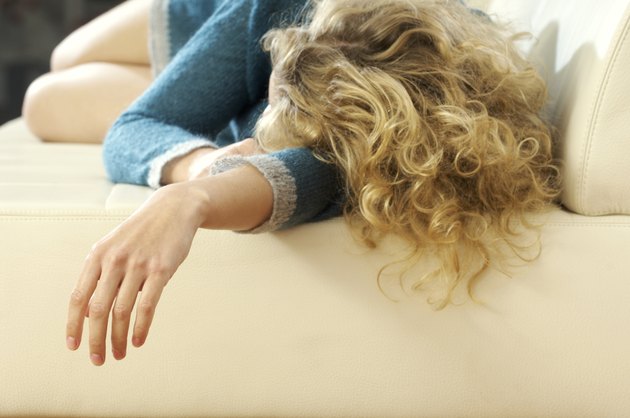 Alterations in Body Weight
Persistently high or low cortisol levels within your body can cause you to experience changes in your body weight. High levels of cortisol can stimulate your appetite and lead to obesity.
People with high cortisol levels may appear to carry excess weight on the upper body and may develop a round face or excess fat tissue around the neck. Such people typically have thin arms and legs, explain health professionals at the National Endocrine and Metabolic Diseases Information Service.
High cortisol levels may increase your risk of developing high blood pressure or high blood sugar levels, known as hyperglycemia. Low levels of cortisol can have the opposite effect, causing decreased appetite or significant weight loss. Loss of appetite can lead some people to become dehydrated or develop low blood sugar levels, or hypoglycemia, due to poor fluid intake. Symptoms associated with these conditions include increased thirst, headache or dizziness.
Skin Irritation
High cortisol levels within the blood can contribute to skin irritation. You may notice that your skin appears thin or bruises easily. You may develop stretch marks that are pink or purple in color on the arms, buttocks, legs, stomach or breasts. If you have abnormally low levels of cortisol, you may notice patches of increased pigmentation on your knees or elbows.
Fatigue
Cortisol is involved in the regulation of your sleeping and waking cycle. Imbalanced cortisol levels within the body can cause symptoms of excessive tiredness or fatigue to occur. These symptoms can be long lasting and may occur in conjunction with sore or weak muscles.
Mood Changes
Cortisol hormone imbalances can cause mood changes to develop. You may feel abnormally anxious or irritable, and can experience difficulty recalling certain information, such as where you put your car keys.
Excess Hair Growth
Women who have high levels of cortisol can experience excessive hair growth as a symptom of cortisol imbalance. Hair growth that abnormally develops on the stomach, chest, neck or face may be embarrassing to some women.
Infertility
Men with high cortisol levels can experience impotence, a medical condition characterized by the inability to have or maintain an erection. These symptoms of cortisol imbalance may also be accompanied by decreased sexual desire. Cortisol imbalances in women can lead to the development of an irregular menstrual cycle, which can make it difficult for women to become pregnant.