Ferritin is a protein that stores extra iron until the body needs it. The amount of ferritin in your blood reflects the amount of iron in your body; low ferritin levels indicate that you have low iron. In addition to carrying oxygen in the blood, iron is an essential part of hundreds of proteins that are needed for energy, the synthesis of DNA and antioxidant enzymes, states the Linus Pauling Institute. Low ferritin often occurs gradually because the body initially adapts to low levels of iron. There are several causes of this potentially serious condition.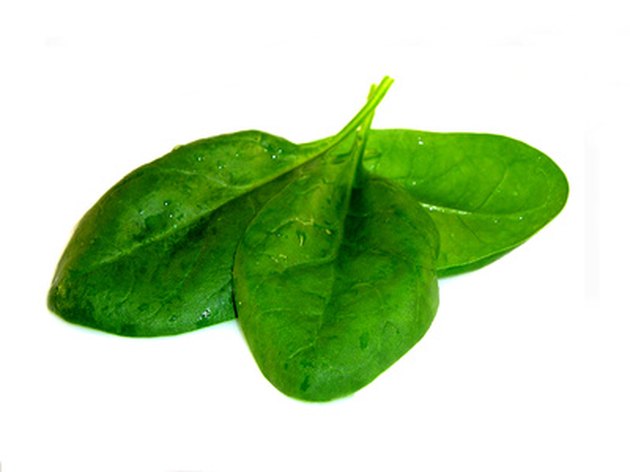 Blood Loss
Excessive loss of blood lowers ferritin levels. In premenopausal women, the most common cause is the cumulative effect of heavy menstrual bleeding. In adult men and postmenopausal women, it's usually the result of chronic gastrointestinal bleeding from ulcers, infections, inflammatory bowel disease or cancer of the esophagus, stomach or colon. Long-term use, or overuse, of drugs such as aspirin, steroids and nonsteroidal anti-inflammatory medications also leads to gastric bleeding. A condition called intravascular hemolysis can cause loss of blood as red blood cells breakdown prematurely.
Malabsorption
Healthy individuals absorb about 10 to 15 percent of the iron they consume, states the National Institutes of Health (NIH). Gastrointestinal disorders that result in inflammation, such as celiac and Crohn's disease, can cause malabsorption of iron. Poor absorption is common following gastrointestinal surgery. Milk and antacids also interfere with absorption of iron, resulting in low ferritin.
Insufficient Dietary Iron
The World Health Organization estimates that as much as 80 percent of the world's population may be iron deficient. A big reason is that most people do not consume enough iron in their diet. Dietary iron comes in two chemical forms: heme and nonheme. Heme iron comes from foods derived from animals. The iron from plant sources is nonheme. Heme iron is absorbed better than nonheme iron and, according to the NIH, most dietary iron is nonheme iron. Legumes, grains and rice are good sources of iron, but they also contain phytic acid that decreases the iron absorption by as much as 50 percent, states the Linus Pauling Institute.
To increase ferritin levels, people should consume foods high in iron, such as the following, according to the NIH: chicken livers (70 percent of the daily value, or DV); lentils (35 percent DV); kidney, lima and navy beans (25 percent DV); beef chuck (25 percent DV); spinach (20 percent DV); dark meat turkey (10 percent DV); light meat turkey (8 percent); and chicken legs (6 percent DV). Ready-to-eat cereals are fortified with iron. They can contain 100 percent DV, but the amount varies from product to product.