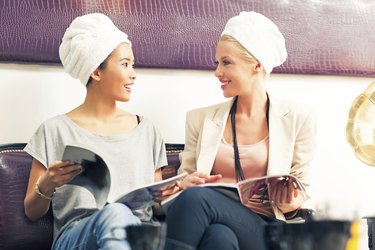 Keratin treatments take your hair from frizzy to straight. Because keratin temporarily changes the course of your hair, there are a few rules to follow in order to keep your style looking its best. One of these rules applies to when and how you sweat. Ladies who sweat a lot will have to exercise a bit of caution, but nonetheless shouldn't be scared to try keratin treatments.
First Few Days
If you're prone to sweat, avoid perspiring -- if you can -- for the first two to four days after treatment. Most stylists will tell you not to get your hair wet until a certain amount of time has passed; so avoid gyms and any activities that cause you to perspire, and try to keep cool as much as possible.
If You Sweat Anyway
Many ladies may be tempted to pull their hair up if they're sweating. Tying or clipping your strands back during the first few days will cause them to kink, so you'll have to keep your hair down. If your face or scalp does sweat and your hair gets damp, blow dry your hair as soon as possible. Once dry, flat iron your blow-dried hair to smooth it even further.
Once Keratin Has Set
Once your keratin treatment has set, there's no need to worry about sweating. When you work out, pull your hair into a ponytail to keep it off your face. Otherwise, you should be just fine. Ladies who were used to sweat ruining their styles should notice marked results -- sweaty hair will dry without frizzing. This factor makes keratin treatments ideal for ladies whose sweating sometimes leads to uncontrollable hair.
Advanced Formulas
If you don't think you can keep from sweating for up to four days, ask your stylist about an advanced formula that only takes 24 hours to set. These formulas are made for coarser hair textures, so consult with your stylist first. If advanced formulas aren't for you, and you can't avoid sweating for four days, wait it out for 24 to 48 hours instead. The longer your keratin treatment sets, the less wavy your hair will be. Leaving yours in for a shorter time will still reduce frizz but leave a bit of wave. To rinse your treatment out, simply shampoo.