Sitting folds up your body so the skin and fat on your lower stomach is less spread out than when standing. Even if your weight is healthy, it's normal to feel some amount of skin around your stomach when you sit. The important considerations are if your weight is healthy and if you are happy with your appearance. Gaining and then losing weight or having a baby can stretch out the skin on the stomach. Stomach fat you can see and feel both sitting and standing is unhealthy, but can be reduced with diet and exercise. Excess skin can be firmed with targeted abdominal exercise.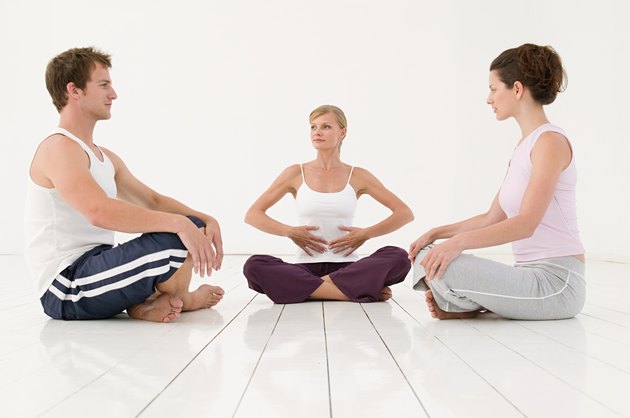 Determine if Your Weight Is Healthy
Reducing your stomach fat by calorie reduction alone can be harmful to your health if you become underweight. Worldwide body mass index data shows that being either obese or underweight will shorten your life expectancy, according to the National Center for Biotechnology Information. BMI is weight in kilograms divided by height in square meters. Normal, healthy weight is a BMI between 18.5 and 24.99. If your weight is normal, but you don't like how you look, it's healthier to change your body composition -- reduce fat and build muscle – than to get skinnier.
Lose Belly Fat With Cardio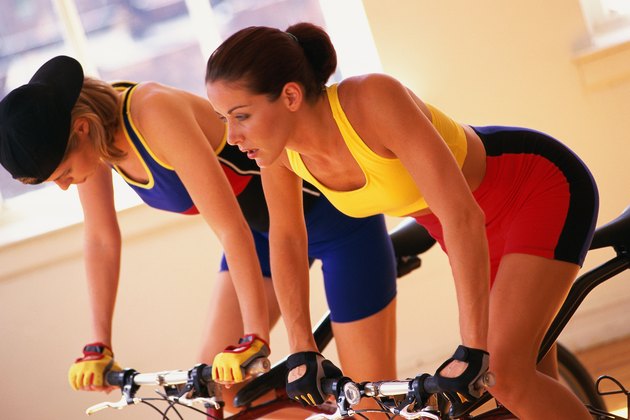 Belly fat – excess stored fat -- is the first fat your body burns as fuel for cardio exercise. In addition to two days of strength training per week, the American Heart Association recommends at least 150 minutes of moderate cardio exercise or at least 75 minutes of vigorous cardio exercise to maintain a healthy heart and veins. Running, speed walking, dancing and swimming are examples of cardiovascular exercises that increase your heart rate and your body's demand for oxygen.
Exercise That Tightens Your Waist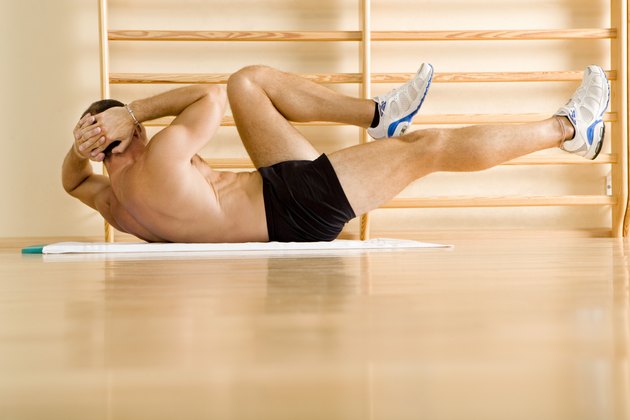 Strengthening the abdominal muscles will cause them to work like a girdle to hold in excess skin and fat when you are sitting or standing. Bicycle crunches tighten the stomach by working all of the four abdominal muscle groups. Lie on your back holding your knees bent up above your hips. With your hands behind your head and elbows pointed out, pull in your stomach muscles toward your spine as you twist your left elbow and torso up toward your right knee. At the same time, pull your right knee in toward your left elbow while extending your left leg straight out and about one foot up. Lower your torso and elbow back to the floor and return your legs to the starting position. Repeat with the opposite elbow and leg for one repetition. Continue the bicycle movement back and forth 10 times without stopping. Work up to three sets of 25 repetitions as your fitness level improves.
Food for a Flatter Stomach
Making changes to your diet can reduce visible belly fat when sitting. Processed grains – such as bleached flour -- most fats, sugar, alcohol and salt all contribute to bloating and abdominal fat. These foods can be safely cut from your diet. Leave in two servings – about two tablespoons – of unsaturated, healthy fats such as olive oil and peanut butter. Foods that have been shown to reduce belly fat are low-fat dairy products, fiber-rich foods such as fruits and vegetables, and green tea, according to an article for Fox News.