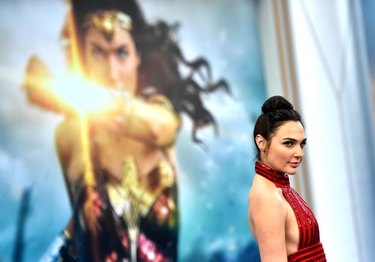 Gaining weight is something Hollywood actresses usually avoid like the plague, but Gal Gadot went from skinny to strong after putting on 17 pounds of muscle for her role as Wonder Woman.
The 32-year-old was initially cast to play the superhero in 2016's "Batman v Superman: Dawn of Justice," and started working with trainer Mark Twight in preparation for the role.
Within nine months he had "remodeled" Gadot's muscles through intensive training and diet and transformed her into "someone who carried muscle — lived in and with muscle — and was happy with it."
She packed on 17 pounds in total, and "it's all muscle," she told Glamour. "I feel so much better now. When you feel strong, it changes everything — your posture, the way you walk. I look at photos from five years ago and think, Whoa, I was too skinny. It's not cool."
Twight told Muscle and Fitness that when they started working together she couldn't "execute a pull-up," but within months she was completing rigorous 45-minute "full-body blast" workout sessions that included a rowing-machine warmup, burpees, crab walks, pull-ups and ring push-ups.
To resurrect the lead role in "Wonder Woman," Twight kicked Gadot's butt hard. "I was prepping for this movie five or six months prior to the shoot," she told ABC7. "We did a lot of gym work and a lot of fight choreographies and horseback riding and sword stuff. It's been very intensive, but it's paid off." The star also hit the climbing gym with her trainer, recently sharing a snap from one of their sessions on her Instagram account.
As for diet, the star practices healthy eating all the way. A "late snack" for Gal consists of delicious avocado toast with sliced tomatoes.
"I'm a big fan of a good diet and healthy lifestyle," she told Filler Magazine. "It's important to eat a lot of vegetables, drink a lot of water and stay active. I believe that what we put in our bodies will reflect on the outside."
And here's the kicker: As if her transformation isn't enough "I am woman, hear me roar" for you, Gadot was expecting her second child during much of the shooting. Five months pregnant when she returned to the studio to do reshoots in November 2016, the former Miss Israel still managed to squeeze into her iconic costume.
"On close-up I looked very much like Wonder Woman," she told EW. "On wide shots I looked very funny, like Wonder Woman pregnant with Kermit the Frog." She also engaged in "aggressive" activity and even threw down in fight scenes.
"There are so many things we asked her to do: 'Now do it on one foot. Now shout while you're doing it. Now it's raining in the freezing cold and you've lost your voice. Go!' Every day it was a hilarious gauntlet, and she would do it," explained director Patty Jenkins, who was very impressed with Gadot's work ethic.