Familiarize yourself with the muscles cycling builds, integrate exercises for them into your workouts, and you will become stronger during your rides. Cycling burns calories and builds muscular and aerobic endurance, contributing to improvements in body composition and physical capability. So strap on your helmet and start pedaling.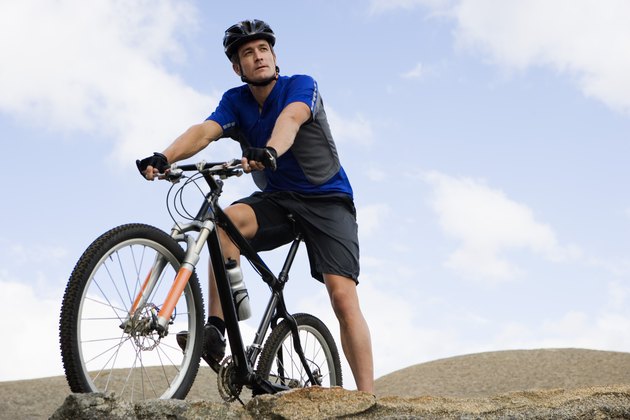 Work the Midsection
Correct form on a bike can prevent early fatigue and lower back strain. You should be able to hold onto the handle bars and lean forward 45 degrees. Raise the handle bars if you are leaning to reach them. Your core muscles are what keep your back straight and balanced when you are on a bike. The core muscles also power your turns and help you control the bike. While the cycling position does strengthen your core muscles, additional core exercises will increase your core's endurance and power, leading to improvements during your rides. The glute bridge, front plank and mountain climbers are examples of exercises that strengthen the core muscles.
Power Through the Hills
Cycling provides a great workout for the hamstrings, on the back of the thighs, and the quadriceps, on the top, front of the legs. Together, the muscles work in conjunction to power pedaling. When you cycle uphill, the quads bear the brunt of the work. If you are in a cycling class and the instructor makes you climb or sprint, you will quickly feel a burn on the top of your legs. Strengthening both the hamstrings and the quads will help ensure muscular balance, promoting cycling efficiency and reducing the potential of injury. Examples of exercises that challenge both muscles include bodyweight squats and forward lunges.
Don't Forget The Little Guys
The soleus and the gastrocnemius, or the calf muscles, help pedal. Cycling makes them stronger, and additional strength training provides multiple benefits. Strong calves will make it easier to pedal for a longer duration, and they will help prevent cycling injuries, such as shin splints. Examples of calf exercises include ankle flexion and standing calf raises.
Tone Your Backside
Don't overlook the potential for shaping your glutes while cycling. Every time you stand up and cycle, your glutes help power the movement. Increase the intensity, either on a spinning bike or by cycling up a hill outdoors, and you will up the ante for your backside. Exercises that will help strengthen your glutes, therefore increasing your cycling potential, include forward lunges, dumbbell stepups and bodyweight squats.