Delusions are misguided beliefs that have no basis in reality, and people with schizophrenia often suffer from delusions as a symptom of their disease. Their disorganized thinking and impaired ability to interpret new information often lead them to false perceptions. People with schizophrenia often have delusions that fit certain common categories.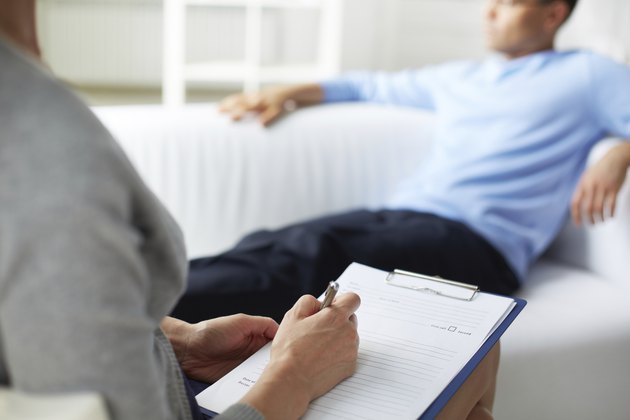 Persecutory
Persecutory delusions are the most common type of delusions experienced by people with schizophrenia. These types of delusions are based on suspicions of being targeted by someone or something. People with these types of delusions mistakenly believe that they are being followed, harmed, poisoned or tormented. Delusions of persecution are suggestive of the paranoid type of schizophrenia.
Referential
Referential delusions are another common type of delusion reported by people with schizophrenia. People with referential delusions believe that gestures and words of others are specifically directed at them. They become convinced that they are the focus of song lyrics, books or comments made by someone on television.
Grandiose
Delusions of grandeur are based on the affected person's mistaken idea that he is someone of extreme importance. People with this type of delusions may believe they are a popular celebrity or a powerful political figure. Since they believe they are well-known or famous, it is disturbing to them when others do not recognize or acknowledge them as such.
Religious
Religious delusions center around misguided ideas about one's relationship with God. People with schizophrenia with this type of delusion may believe they have a special relationship with God or that God has given them special powers. They may profess an ability to speak directly to God or a responsibility to carry out God's plans. In some cases, these individuals may actually believe that they are God.
Somatic
Somatic delusions involve a preoccupation with one's body. These delusions commonly consist of erroneous beliefs that they are suffering from a physical condition, such as a tumor. However, the perceived source of the physical malady is usually bizarre, such as having a foreign substance in one's body.
Control
Delusions of control involve the belief that one's thoughts and actions have been taken over by some outside force. People with schizophrenia with delusions of control believe that their thoughts have been involuntarily taken from their mind. Therefore, they are convinced that the thoughts in their mind are not their own. Delusions of control may also include the belief that their bodies are being manipulated to perform certain actions.
Is This an Emergency?
If you are experiencing serious medical symptoms, seek emergency treatment immediately.