Skin acts like a sentinel, protecting you from invading bacteria and environmental stressors such as sunlight and cigarette smoke. Your skin is such a complex organ that it demands many nutrients to stay healthy, from proteins and fats to a range of minerals and vitamins. But two vitamins are especially essential for strong, elastic skin: vitamin C and vitamin E.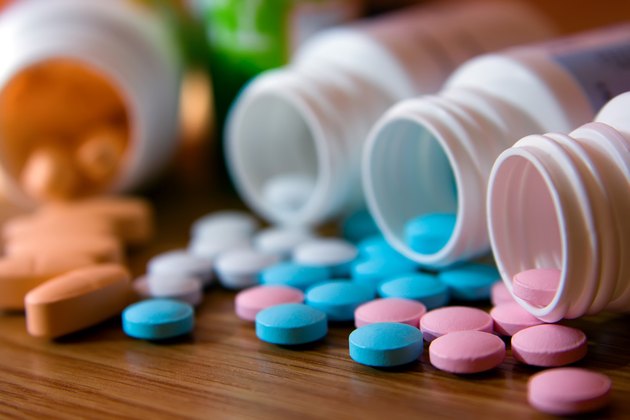 Healthy Skin 101
The top layer of your skin, the epidermis, forms a physical barrier, which holds moisture in and blocks out damaging substances. The layer of skin below the epidermis -- the dermis -- is the area responsible for other vital functions. The dermis contains nerves, blood vessels, glands that produce oil and sweat, and the roots that anchor hair. This is also where two proteins are produced, collagen and elastin, and where they intertwine to support your skin's structure. Resilient elastin is responsible for skin's elasticity, while collagen fibers contribute strength.
Vitamin C for Collagen and Elastin
Your skin needs optimal levels of vitamin C to stay firm and elastic because this vitamin is essential for producing collagen and elastin. Aging and exposure to sunlight or pollutants deplete the amount of vitamin C in skin, while consuming vitamin C boosts its levels, reports the Linus Pauling Institute. Women should get 75 milligrams daily, while men need 90 milligrams. You can get about 100 percent of your daily intake by eating 1/2 cup of sweet peppers or a medium orange. Other good sources include broccoli, cabbage, potatoes, strawberries and cantaloupe.
Vitamin E for Antioxidant Protection
You may be familiar with vitamin E as an ingredient in topical creams, but it also works inside your skin as an antioxidant. Reactive molecules known as free radicals are produced when skin is exposed to sunlight or other environmental stressors. Vitamin E neutralizes free radicals before they harm skin cells in the skin's barrier. Since sunlight and free radicals also damage collagen and elastin, antioxidant protection helps maintain skin's strength. The recommended dietary allowance for vitamin E is 15 milligrams daily. The best dietary sources are sunflower seeds, wheat germ, peanuts, almonds, hazelnuts and vegetable oils, such as safflower, sunflower, corn and olive oil.
Supporting Cast of Vitamins
Vitamin D helps regulate the growth of new skin cells. Since new cells form the skin's protective barrier, they hold in moisture and maintain flexible skin. You also need vitamin B-12, folate and vitamin B-6 for their ability to lower blood levels of the amino acid homocysteine. High levels of homocysteine may block enzymes essential for the normal meshing of collagen and elastin, according to the Medical Biochemistry Page. Other B vitamins, including biotin and niacin, also contribute to healthy skin. Since these vitamins come from diverse food sources, the best strategy is to eat a balanced diet that includes fruits, vegetables, lean protein and whole grains.