Women over 40 should include progressive strength training in their fitness routine. Strength training builds muscle tone and slows the muscle loss that starts to occur in the 40s and speeds up sharply after 50. Muscle loss combined with bone-density loss increases the chances of injury from falls in older women.
Step 1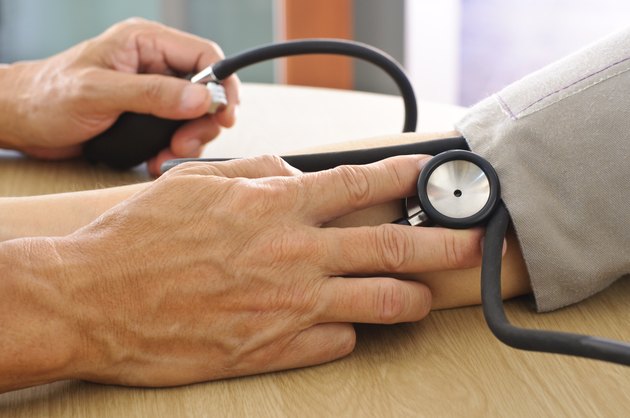 See your doctor and discuss the type of training you are looking to start. This step is important for women over 50 and women who have heart disease, arthritis, diabetes or high blood pressure.
Step 2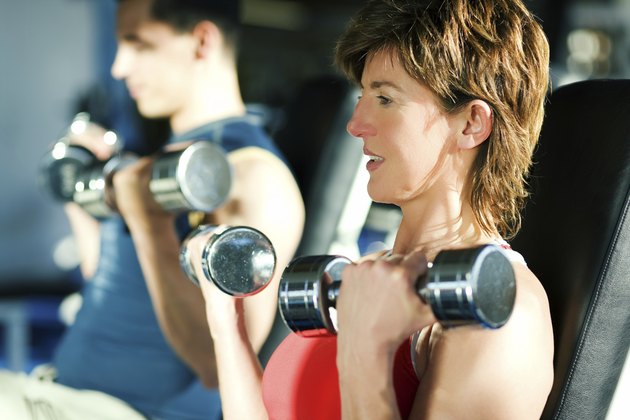 Start strength training. The American College of Sports Medicine (ACSM) recommends at least two progressive strength training sessions per week. Strength training involves free weight training, machine weight training and bodyweight training. Any combination of the three can be done. Sessions should include eight to 10 exercises that work all major muscle groups. Keep repetitions in the eight to 12 range for building muscle.
Step 3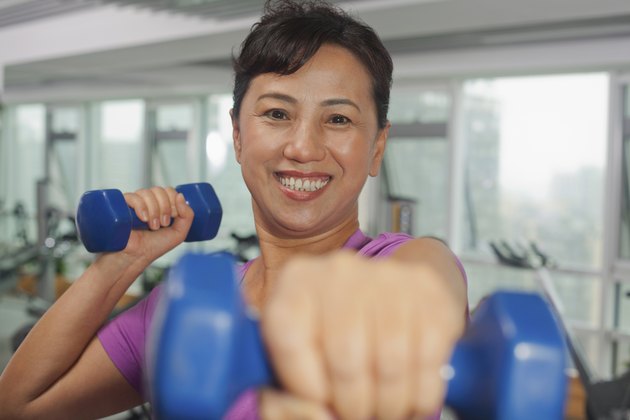 Make your training progressive. Increase the stress on the muscles by either increasing the weights or increasing the repetitions when the current weight and/or repetition range gets too easy. Each training session should be done at a moderate level. ACSM defines this as a five to six on a scale from zero to 10.
Step 4
Follow a healthy diet that includes adequate protein, carbohydrates and healthy fats. Assuming you are not currently exercising, you will need to increase your calories when you start to account for the new activity. To build muscle, you should be eating slightly more calories than you are burning each day.
Step 5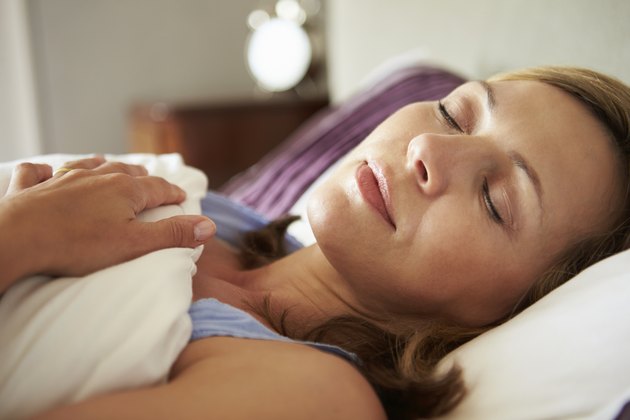 Get seven to eight hours of sleep each night. Strength training causes trauma to the muscle fibers. Muscle growth occurs when that trauma is repaired. A key hormone in the repair process is human growth hormone which is secreted naturally during stages three and four of the sleep cycle. Inadequate sleep will hinder the muscle building process.
Things You'll Need
Gym membership

Workout attire

Sneakers
Warning
Always use proper form when exercising to prevent injuries. Obtain the services of a personal trainer if you are unsure of an exercise. Lower the weight if you find you are unable to maintain form throughout the exercise.