Increasing muscle density means achieving a defined, "hard" look that so many bodybuilders and trainees covet. Muscles typically appear dense when your body fat percentage gets around 10 percent to 12 percent. This will vary depending on the individual. However, by using a targeted approach that combines training and diet techniques, you can increase your muscle density.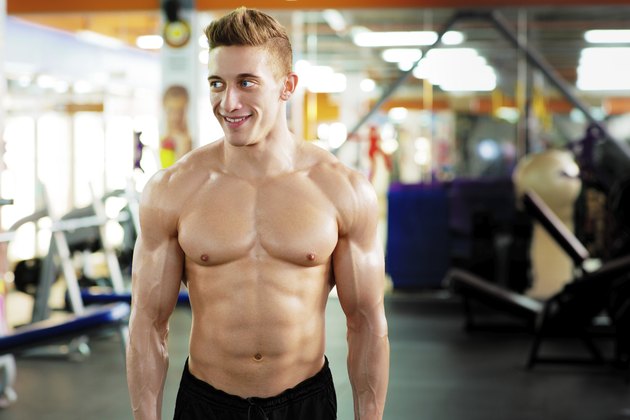 Step 1
Choose exercises wisely and time them appropriately to maximize muscle fiber engagement. For example, always do your compound movements first. In "The Ultimate Mass Workout," by Jonathan Lawson and Steve Holman, the following exercises are recommended: squats for legs, V-handle pull-ups for back, decline bench press for chest, upright rows for shoulder, chin-ups (palms facing your body) for biceps and decline close-grip bench press for triceps.
Step 2
Start your workout for each muscle group with a power pyramid strategy for a compound movement, such as bench press. After one or two lighter warm-ups sets, do one set of nine repetitions with as heavy a weight as you can. Train to failure by taking the set to the point where you can no longer do a controlled repetition. After one to two minutes of rest, do another set to failure for seven repetitions. These are called pyramids because the weight goes up from one set to the next while the repetitions go down.
Step 3
Set a weight with which you can comfortably get 15 repetitions on the same compound exercise. This density portion uses four lighter sets in quick succession. According to "The Ultimate Power-Density Mass Workout," do four sets of 10 repetitions, resting 30 seconds between each set.
Step 4
Select an isolation exercise for the muscle group being trained. Examples include leg extensions for quadriceps, leg curls for hamstrings, stiff-arm pull-downs for back, dumbbell flies for chest, dumbbell laterals for shoulders, concentration curls for biceps and dumbbell kickbacks for triceps. Do a set of 10 repetitions, then decrease it slightly and immediately do a set of seven reps, followed by another weight decrease and a set of five reps, with no rest between them. Known as a double drop-set, this technique extends tension on the muscle to increase density, according to "The Ultimate Power-Density Mass Workout."
Step 5
Drink a protein shake post-workout that includes 30 to 50 grams of whey protein and 30 grams of healthful fat such as MCT oil or flaxseed oil, as recommended by "Optimum Anabolics." When training for density, you want to take in high-glycemic carbohydrates, such as dextrose, maltodextrin or fruit juice immediately after training. However, if you overdo the carbohydrates, fat can be stored, which reduces the dense look. Experiment with different levels of carbohydrates, from 30 to 60 grams for example, to see what works best for your body.
Step 6
Do 30 to 60 minutes of cardiovascular exercise immediately following your workout. "Combat the Fat" author Jeff Anderson recommends low to medium intensity cardio, such as walking on the treadmill at an incline, to directly target fat stores and increase the look of muscle density.
Things You'll Need
Whey protein

Dextrose

Maltodextrin

Fruit juice

Flaxseed oil

MCT oil
Tip
Have 1 gram of protein per pound of your body weight every day.
Warning
Never train to failure without a spotter for exercises like squats and bench presses.