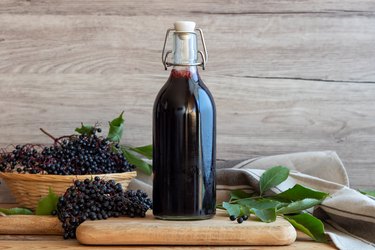 If you're focused on maintaining a healthy lifestyle, you've likely heard about elderberry syrup's benefits. Besides promoting a well-functioning immune system, these powerful little berries provide benefits for your heart, digestive system, bones and brain. They're also a great source of fiber.
Read About Elderberries' Rich History
Elderberries have long been an intriguing part of the natural world. The USDA National Agricultural Library notes that archaeologists have found Stone Age and Bronze Age elderberry seeds at sites of confirmed human prehistoric activities.
In addition to harvesting the elder tree berries, those early inhabitants found uses for the plant's bark and branches. Ancient Greek and Roman philosophers, healers and naturalists also wrote at length about the remarkable healing powers of this little-understood plant.
Today, elderberries frequently receive close attention in empirical studies. These intriguing little purple fruits are still popular in folk medicine circles, and many healthy lifestyle enthusiasts view elderberry products as an important health-enhancing tool.
Enjoy Elderberry Several Different Ways
When you stroll through the aisles of your local health food store, you'll likely see several types (and brands) of elderberry products on the shelves. In fact, many larger grocery stores and pharmacies also carry these popular items.
Elderberry syrup is readily available, and you may also want to enjoy elderberry tea's benefits. Many brick-and-mortar and online retailers also carry pastilles (or lozenges) and elderberry tinctures, according to Bastyr University.
Blending your own elderberry syrup is simple, and it takes less than an hour. First, boil 2 cups of water in a small pot. Stir in 1 cup of elderberries, and simmer the mixture for 30 minutes. For some added aroma and spice, add minced ginger, clove or cinnamon.
Pour the liquid through a strainer, and keep the berries for another purpose. Return the strained elderberry liquid to the pot. Blend one-half cup of honey into the liquid.
Store your homemade syrup in a sealed jar in the refrigerator. Use within three months. Take one tablespoon daily to enjoy all of the elderberry syrup benefits.
Let's say you purchase commercially packaged elderberry syrup. The manufacturer of Sambucol, a leading elderberry syrup brand, recommends that you store the product in a dry, cool place. Although refrigerator storage is another option, it's not required for commercial preparations.
Maybe you'd rather sip a freshly brewed cup of elderberry tea daily. Dr. Irina Todorov, a physician who practices integrative medicine at the Cleveland Clinic, notes that you can enjoy two notable elderberry tea benefits.
Dr. Todorov explains that elderberry tea, along with other forms of the plant-based supplement, have a long history of being used to combat upper-respiratory illnesses. In addition, elderberry delivers valuable antioxidants to the body, and provides general immune system support. Elderberry tea benefits the body significantly.
Although plant scientists have cataloged numerous elderberry plant species, the European elder (or Sambucus nigra) receives the most attention. This variety's berries and flowers are usually incorporated into herbal blends, and are most commonly used in scientific studies.
Learn About Elderberry Health Benefits
Elderberries have become recognized for their abundant nutritional benefits. The plant's polyphenolic flavonoids are loaded with antioxidants, and also have cancer-fighting properties, notes North Carolina State University. This versatile nutritional powerhouse also contains vitamin C and vitamin E, both of which contribute to immune system health.
In fact, when it comes to berries' total flavonol makeup, elderberry is the superpower of the bunch, notes Lee Health. These unassuming little fruits surpass blackberries, blueberries, goji berries and cranberries in the flavonol category. However, there haven't been many human studies in this area, so researchers haven't been able to fully gauge elderberries' effectiveness.
According to the University of California, Davis, regular elderberry consumption can also provide digestive system benefits. The fiber-rich berries contribute to better gut health and optimum digestion. You're also less likely to be troubled by abdominal cramps, gas, bloating and constipation. This can be another one of several elderberry syrup benefits.
Elderberries' Effect on Brain Health
Tiny little elderberries also make a powerful contribution to better brain health, and they're a helpful tool for fighting cognitive deterioration. This attribute could play a role in preventing neurodegenerative diseases such as Alzheimer's.
In fact, the role of nutraceuticals (including elderberries) in positively affecting cognitive health has received considerable attention in scientific circles. The June 2014 edition of Frontiers in Pharmacology published a detailed review presenting data from numerous human-based observational studies, along with randomized and non-randomized clinical trials.
The review aimed to summarize certain nutraceuticals' effects against age-linked cognitive dysfunction and dementia. Study coordinators reported results from vitamins, flavonoids and other non-pharmaceutical substances that could help to prolong optimum cognitive function.
To set the stage, study coordinators noted that many elderly people have certain nutrient deficits, which can worsen the effects of age-related cognitive deterioration. These nutritional deficiencies can also negatively affect major organ function.
The converse could also be true. The review text mentioned strong evidence showing that specific nutrients can help to lessen that cognitive slide, and even positively affect certain disease outcomes. In addition, the review noted the presence of strong scientific and public interest about nutraceuticals' potential in these areas.
Study coordinators analyzed components of prevalent diets, plus several applicable phytochemicals that have been shown to positively affect these cognitive dysfunctions. However, researchers expressed frustration on the lack of credible studies that could provide value here.
However, the study coordinators were in agreement about the capacity of berry anthocyanins to improve cognitive and neuronal brain operations. Several types of berries, including elderberries, are rich in naturally sourced anthocyanin antioxidants.
To conclude the review, study coordinators urged the expansion of clinical trials of these phytochemical-based therapies for age-related cognitive deterioration. Because these nutraceuticals are readily available, and are generally safe to consume, there are few barriers to moving forward.
Consider Elderberry Syrup for Colds
One well-documented study reinforces anecdotal benefits of using elderberry syrup for colds. An April 2016 study, published in the journal Nutrients, details a well-controlled trial of 312 economy class airline passengers who traveled from Australia to an overseas location.
Researchers recruited participants through advertisements, travel agencies and emails sent to Gold Coast, Australia's staff and students. After initial screening, 325 volunteers were randomly given trial capsules, some of which contained a placebo.
Although travelers collectively experienced a low occurrence of common cold symptoms, participants who consumed the elderberry capsules had a noticeable reduction in cold symptoms and duration. This benefit applied to people who began consuming elderberry 10 days before their trip, and continued taking it until 4 to 5 days after arriving at their destination.
Specifically, the elderberry consumers recognized an overall decrease in their cold symptoms during that period. The subjects' colds also averaged 2 days shorter duration. This encouraging evidence suggests the benefits of using elderberry syrup for colds.
Note, this study was sponsored by a European fruit processing company. While this study shows promise for elderberry syrup as a remedy for helping you fight the common cold, more research is needed before claims can be made.
Additional Elderberry Syrup Benefits
Elderberry-sourced products, including elderberry syrup, may also have flu virus-fighting benefits. Dr. Russell Greenfield, a physician with Novant Health Integrative Medicine, points out that this attribute can potentially lead to shortened duration of flu symptoms.
Dr. Greenfield notes that the majority of flu symptoms actually result from the body's inflammatory response to the virus' invasion, rather than from the virus itself. By reducing the inflammation, your symptoms may lessen, and you'll begin to feel better. Dr. Greenfield stresses that even if you consume elderberry supplements, you should continue to get your flu shots.
Possible Elderberry Side Effects
Before adding elderberry to your nutritional supplement list, get a better picture of this plant's potential downsides. That's the advice of the University of Rochester Medical Center.

First, you shouldn't consume unripe or raw berries; and the elder tree's stems, leaves and other parts are also off limits. All of these components include a toxic substance.
Note that if you don't properly prepare elderberry before consuming it, you're setting yourself for a nasty case of diarrhea, nausea and vomiting. As with any nutritional supplement, don't take more than the recommended dosage. On a positive note, elderberry hasn't been linked with any known medicine or food interactions.
Be aware that elderberry can have diuretic properties. If you already take medications that stimulate urination, talk to your physician before consuming this supplement. If you're pregnant or breastfeeding, stay away from all elderberry products.
Because elderberry may provide immune system benefits, patients who take immunosuppressants should avoid it, on the advice of the Memorial Sloan Kettering Cancer Center. If you have an autoimmune disease such as multiple sclerosis, lupus or rheumatoid arthritis, consuming elderberry products is also not advisable.
Is this an emergency? If you are experiencing serious medical symptoms, please see the National Library of Medicine's list of signs you need emergency medical attention or call 911.