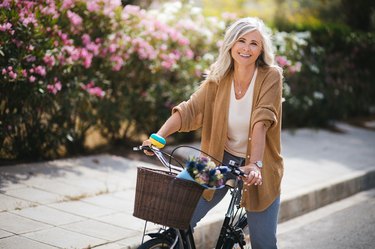 Even if you only loosely understand what the basics of Medicare are (we'll give you the low-down shortly, don't worry), the first thing to come to mind most likely ​isn't​ developing a strong fitness routine... right?
Mini refresher: Medicare is the federal health insurance program for people 65 and older, and those with some disabilities. But let's go a little deeper. Original Medicare includes Part A (coverage for inpatient hospital care) and B (coverage for doctor visits). And then there's Part C, also known as Medicare Advantage, that combines Parts A and B into one plan offered by private health insurers that may unlock more perks like prescription drug coverage.
So, what does that have to do with your fitness? A lot, actually.
"Although physical fitness may look different at age 65 than it did at 20, being active on a regular basis is still important to maintaining health and wellbeing," says Kaitlin Hilton, product director for UnitedHealthcare® Medicare & Retirement.
"Exercise helps establish better balance and flexibility, and may reduce falls. It improves sleep patterns, boosts mood and minimizes the risk of depression." Plus, keeping up your strength and resilience helps you maintain independence as you age.
Though the fitness-and-aging connection is clear, there are plenty more Medicare perks you may not even know about that'll take your fitness routine up a notch that can help you feel healthy (and happy) for as long as possible.
"Many UnitedHealthcare® plans offer Renew Active™ — a fitness program exclusively for UnitedHealthcare® Medicare members at no additional cost," Hilton says. What's so special about this program, you might be wondering? It offers a ​ton​ of fitness-boosting benefits (more on these later).
"We're focused on building fitness programs that help our members achieve their health and wellness goals, and reflect the changing preferences of older adults as the baby boomer generation continues aging into Medicare," Hilton says. Don't you already feel at ease knowing your health is being looked after? Here are 4 ways many UnitedHealthcare® Medicare Advantage plans can help your fitness routine.
Getting yourself to the gym is oftentimes the hardest part of working out. But with Renew Active™, you'll gain access to an extensive network of gyms and fitness locations (like 24 Hour Fitness, Anytime Fitness, Curves, Gold's Gym, LA Fitness, Life Time and Snap Fitness). Plus, you'll receive a personalized fitness plan to guide you through the areas of your routine that might need more work.
2. Access to Fitness Classes
Of course going to the gym can help you reach your fitness goals, but having an instructor push you to work even harder — especially when motivation starts to run low — can be a game-changer. According to Hilton, part of the Renew Active™ program provides access to a variety of fitness classes, including thousands of video workouts and guided programs that you can do without ever leaving your home.
And you can't sleep on your brain health, either. "Keeping mentally sharp is equally important — especially as we age," Hilton says. With Renew Active™, you can tap into an online brain health program to support memory and cognitive function. "Improving the way these parts of the brain work may fight pre-Alzheimer's changes often seen in midlife," Hilton adds.
Friends who work out together... well, continue to work out together. "The Fitbit Community for Renew Active™ is a great way to make connections with like-minded members," Hilton says. Not only can you find new friends to exercise with, but you can also share your fitness milestones, chat online about upcoming goals you want to reach, and keep each other accountable.
"Members can participate in fun, real-time step challenges to help keep you motivated and moving towards your goals," Hilton adds. Some friendly competition might just be what your fitness routine is missing.
4. Unexpected Bonus Perks
United Healthcare Medicare Advantage plans also offer benefits and features like vision, hearing and dental care as well as health, wellness and disease management programs with 24/7 access to health care professionals through virtual visits.* "What makes Medicare Advantage plans appealing to so many people are the value and simplicity they offer," Hilton says. Convenient health care that works for ​you​? Yes, please.
Using these easy-to-access tools and resources will help you create a holistic fitness routine that'll guide you to living your best life for the long term. And if you do happen to come down with something or run into an injury, you're still completely covered, without worry.
[*Benefits, features and/or devices vary by plan area. Limitations and exclusions apply.]
Participation in the Renew Active™ program is voluntary. Consult your doctor prior to beginning an exercise program or making changes to your lifestyle or health care routine. Renew Active includes standard fitness membership. Equipment, classes, personalized fitness plans, caregiver access and events may vary by location. Certain services, classes and events are provided by affiliates of UnitedHealthcare Insurance Company or other third parties not affiliated with UnitedHealthcare. UnitedHealthcare is not responsible for the services or information provided by third parties. The information provided through these services is for informational purposes only and is not a substitute for the advice of a doctor. The Renew Active program varies by plan/area. Access to gym and fitness location network may vary by location and plan. Renew Active premium gym and fitness location network only available with certain plans.
Plans are insured through UnitedHealthcare Insurance Company or one of its affiliated companies. For Medicare Advantage and Prescription Drug Plans: A Medicare Advantage organization with a Medicare contract and a Medicare-approved Part D sponsor. Enrollment in these plans depends on the plan's contract renewal with Medicare.
[©<2020> United HealthCare Services, Inc. All rights reserved.]
Material ID: Y0066_200813_084423_M
Is this an emergency? If you are experiencing serious medical symptoms, please see the National Library of Medicine's list of signs you need emergency medical attention or call 911.