Body composition means what percentage of your total weight is from fat and what is from fat-free mass, consisting of muscle, bone, blood and other fluids. The American College of Sports Medicine publishes categories of body-fat percentage for adult men and women. You can reduce body fat by losing weight, and add in exercise to build muscle. For example, a man with 19 percent body fat can work out with weights, change up daily nutrition to eat fewer calories than expended from daily life and exercise, and gradually and safely reduce body fat to 15 percent, considered "athletic" body composition.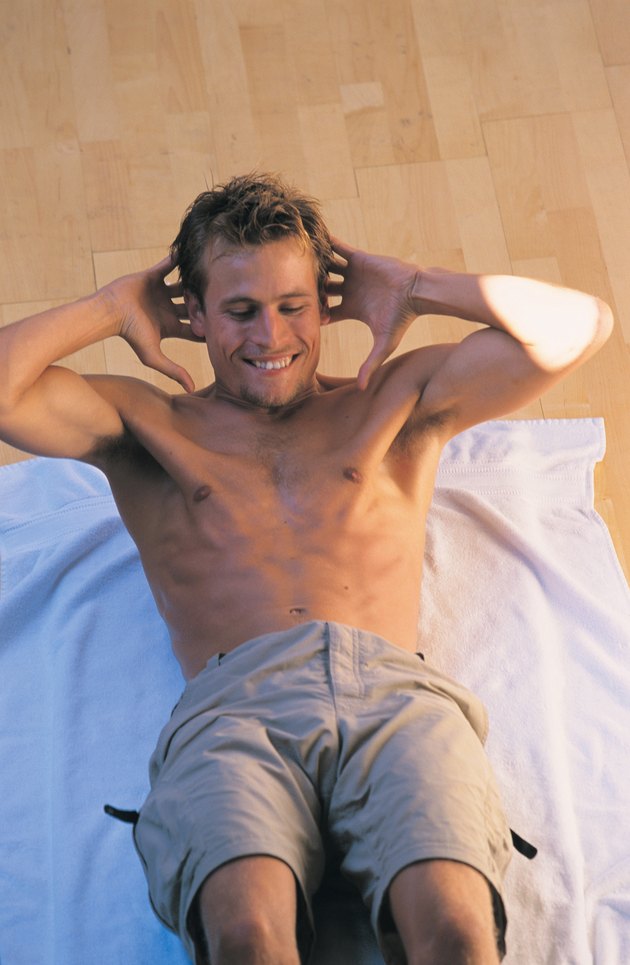 Step 1
Measure your body fat by using the calipers to take skin-fold measurements, then comparing the total with published tables. Make a note on the calendar.
Step 2
Measure the circumference of your waist, hips, upper arm, thigh, calf and chest. Write down all measurements on the calendar.
Step 3
Spend 30 minutes or more every day doing some form of exercise that you enjoy. Good choices are biking, walking, swimming, gardening, and playing in the park with your kids or your dog. Remember to warm up for a few minutes beforehand.
Step 4
Eat well. This can be the most difficult part of changing your body composition. Use the calendar to write down what you eat, and watch portion sizes. You do not have to eliminate a food you love, however, try to eat smaller portions.
Step 5
Weigh yourself after one week. If you have lost 1 or 2 lbs., your exercise and daily activities are burning more calories than you eat. Continue on this plan. If you have not lost weight, or have gained weight, you need to eat fewer calories and exercise another 10 to 15 minutes daily.
Step 6
Weigh yourself again after the second week. You should be losing 1 to 2 pounds per week. You must adjust your exercise level and food intake to obtain this rate of weight loss in order to lose fat and build or maintain muscle mass.
Step 7
At the end of four to six weeks of consecutive weight loss, repeat the caliper and circumference measurements. Record your progress on the calendar. Congratulations, you are now increasing your muscle mass while losing body fat!
Things You'll Need
Body composition calipers or tape measure

Comfortable, well-fitting workout clothes and shoes

Water bottle

Calendar
Tip
Have fun and find workouts that you enjoy, so that you will repeat them daily and weekly.
Warning
What is high-intensity training for an elite athlete is probably different for you. Work out at a higher heart-rate intensity for your age and fitness level; everyone is unique.