Working your muscles, either through strength training or cardiovascular exercises, can boost your strength and stamina and even improve your mental health. If you're anxious to reap these rewards, it's only natural to hit the gym as frequently as you're able. While your intentions are admirable, you might soon find your workouts grinding to a halt as you contend with the symptoms of overworked muscles. A number of indicators can suggest it's time to give your body time to rest.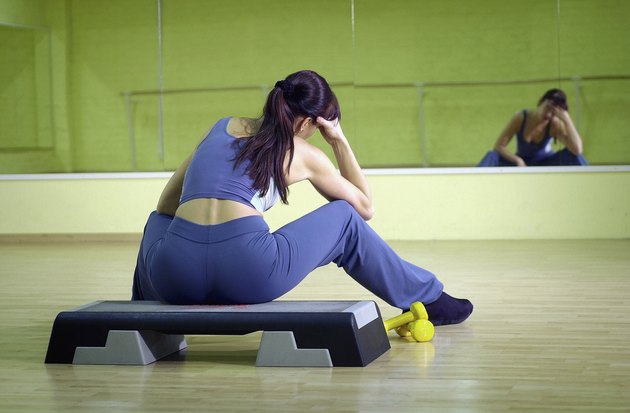 Muscle Talk
It's often easy to tell if you're pushing your muscles too hard, as your body itself will tell you. The American Council on Exercise reports that it's common to experience sore muscles and joints if you're overtraining. If you're the type of fitness enthusiast who keeps precise tabs on your strength-training performance, it's also common to begin to experience a decline in your performance during exercises that employ tired muscles. For example, if you could previously perform 12 squats with a 40-pound barbell, you might only manage eight or 10 squats.
The Twilight Zone
Physical signs aren't the only indicators that you're working your muscles too hard. When you're overtraining, you might experience symptoms such as increased fatigue or a general sense of feeling out of sorts, more irritability and, in some extreme cases, heightened feelings of anxiety and depression. The exercise-induced release of hormones such as epinephrine can also lead to a decreased appetite.
Dive Into Carbs
When you've noticed symptoms that you're overtraining, your first step should be to stop your workout and allow time for your muscles to sufficiently recover. Depending on your physique, this recovery period could be one to two days or several days. To avoid the risk of overtraining in the future, scale back your workout frequency, duration or the sets and reps you use. Additionally, ensure you consume a meal or snack rich in complex carbohydrates and protein before and after your workout.
Pleasant Dreams
Beyond changing your diet and workout regimen frequency, other steps can help you avoid the pain of overtraining and limit the risk of experiencing this issue in the future. "Men's Fitness" magazine recommends getting up to nine hours of sleep every night to provide sufficient recovery time for your muscles. Another approach is to book regular massages between workouts, which can loosen your knotted muscles and improve your body's blood flow.