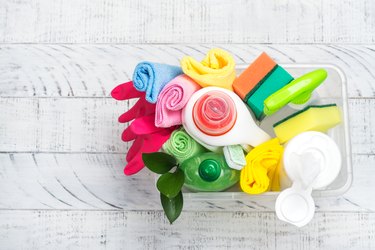 Dettol is a British brand of antiseptic cleaning products made by the brand RB (formerly Reckitt Benckiser). According to Dettol, their products kill more than 99.9% of germs, including bacteria, fungi and viruses. Dettol is not widely available in the U.S., but you can purchase some of the brand's products on sites such as Amazon.
The key active ingredient in Dettol is a modified form of the antiseptic phenol, called chloroxylenol BP, according to the Royal Society of Chemistry (RSC). Dettol contains chloroxylenol BP in a 4.8 percent concentration of weight to volume, according to the UK Electronic Medicines Compendium.
The product's other ingredients include isopropyl alcohol, pine oil, castor oil soap, caramel coloring and water. These ingredients contribute to Dettol's antiseptic properties, make it water-soluble and give it color, per the RSC.
Ingredients in Dettol Antiseptic
​Active ingredient:​ Chloroxylenol BP (antiseptic, disinfectant)
Isopropyl alcohol (antiseptic)
Pine oil
Castor oil soap
Caramel coloring
Water
1. Chloroxylenol Kills Bacteria and Some Viruses
Chloroxylenol is the active antibacterial ingredient in Dettol that kills bacteria, mycobacterium, fungi and some viruses, according to an FDA report prepared for the American Cleaning Institute in 2014.
Dettol has been confirmed to kill strains of the coronavirus, but according to the company, it has not yet been possible to test the products' effectiveness against the virus that causes COVID-19. However, the National Environment Agency of Singapore lists several Dettol products on its roster of household products that contain the appropriate concentration of active ingredients to disinfect areas likely to be contaminated with the novel coronavirus. These products include:
Dettol Anti-bacterial Surface Cleanser Trigger Spray
Dettol Antiseptic Disinfectant Liquid
Dettol Antiseptic Germicide
Dettol Healthy Clean Bathroom
Dettol Healthy Clean Kitchen
Seek immediate medical attention if any of these signs occur while using Dettol:
A rash or hives with swelling of the face, mouth, throat or tongue
Tightness of the chest and difficulty breathing
Redness, burning, blisters or peeling of the skin
2. Isopropyl Alcohol Has Antiseptic Properties
Isopropyl is a secondary antiseptic ingredient. This is a strong-smelling, colorless, flammable chemical compound that gives Dettol the ability to kill bacteria and and viruses, according to the Centers for Disease Control and Prevention (CDC).
Isopropyl alcohol is often used to disinfect medical tools like stethoscopes, but it is not used for sterilization because it does not kill fungal spores. This is why Dettol includes both chloroxylon ​and​ isopropyl alcohol: to kill bacteria, fungi and viruses.
3. Pine Oil Is a Mild Antiseptic
Pine oil is made from the cone, twigs and needles of the pine tree. When pine oil is diluted in water it emulsifies, or forms a cloudy liquid. This cloudiness also occurs when Dettol is diluted.
Pine oil has mild antiseptic and disinfectant properties and a distinct aroma that characterizes Dettol and other products made with pine oil, according to Science Direct. Pine oil is also used in a variety of bath oils and bath soaps and as an essential oil in aromatherapy.
4. Castor Oil Soap and Other Ingredients
Castor oil soap is a product made from castor bean oil. The soap contains a high concentration of ricinoleic acid, the active ingredient in castor oil. The ricinoleic acid is essential for holding the other active ingredients in Dettol in cohesive solution until it is diluted with water for use, per the RSC.
Caramel coloring and water are the other ingredients in Dettol. Caramel gives Dettol its yellowish-brown color and the water acts as a diluent, binding the other ingredients together.
Warning
Do not ingest Dettol. These products are made for exterior use only. Always follow the instructions and warning labels provided on the product's packaging.
A wide range of Dettol products are safe to use on skin but powerful enough for germ-killing tasks. Products designed for surface cleaning include sprays, liquid, gels and wipes. The company claims that its disinfecting formula removes grease and dirt from surfaces, killing 99.9 percent of bacteria without the harshness of bleach.
Dettol's skin care product line includes a hand wash ($20 for a 2-pack, Amazon.com). The antiseptic liquid, also available with pump, can be used for first aid on cuts, scratches and insect bites to kill germs and help prevent infection.
The bar soap form ($7.99 for a 3-pack, Amazon.com) contains moisturizers and helps protect your skin from bacteria. It is also available in a sensitive skin formula ($6, Amazon.com).
The brand also makes an anti-bacterial body wash ($16.49, Amazon.com).
As a laundry sanitizer, Dettol is available as a powder or liquid. The product hygienically cleans laundry even at low temperatures. Dermatology tested, the laundry detergent kills bacteria, sanitizes and deodorizes. Dettol also makes a product that removes limescale and bad odors from your washing machine.
Dettol hand sanitizers are convenient when you are on-the-go. The sanitizers contain 62 percent ethanol alcohol (similar to isopropyl alcohol), according to study published by the ​Ife Journal of Science​ in 2013. The percentage of alcohol by volume is important: The CDC recommends that hand sanitizers contain no less than 60 percent alcohol.
Is this an emergency? If you are experiencing serious medical symptoms, please see the National Library of Medicine's list of signs you need emergency medical attention or call 911.