Late night training has always had a bad reputation. Common sense dictates that training in the morning or afternoon is optimal since you are likely to have more energy. Also, your early exercise session will boost your stamina to help you make it through the rest of the day. But weight training at night may have more concrete, results-oriented benefits.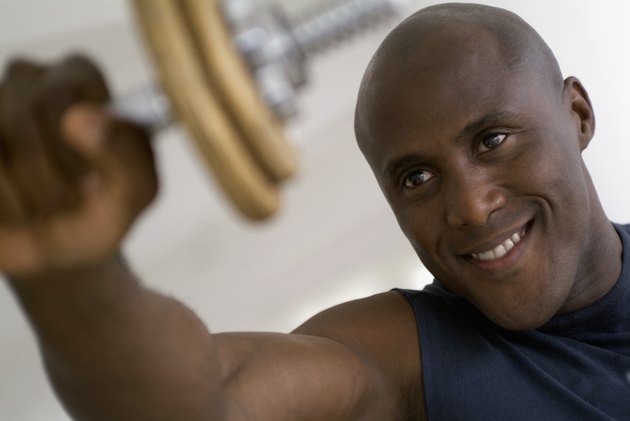 Burn More Bodyfat
According to a February 2009 "Flex" magazine article by Jim Stoppani, a study conducted in 2005 at the University of Southern Mississippi followed 16 males for 10 weeks. Half of the participants trained in the morning before 10 a.m. and half trained in the evening after 6 p.m.. The evening group decreased body fat by 4 percent. However the morning exercisers had no change in body fat. Although researchers were unsure as to the reason for the drastic difference, they theorized that working out at night may have increased metabolism at a time when it usually decreases.
Work Out More Effectively
Ever go to the gym pumped about your leg workout, only to be derailed because someone is already on the leg press? Getting smacked right out of your mental zone like that can throw off your entire session. If you work out at a gym, going at night lessens the chance that will have to wait for your favorite pieces of equipment.
Recovery
The body recovers and repairs itself at night while you are sleeping. Growth hormone is one hormone involved in training recovery. It assists in breaking down fat and repairing muscle. A Colorado State University's online library of biomedical textbooks notes, growth hormone is secreted while you sleep. Therefore, after an intense evening weight lifting session, a healthy post-workout snack, and a shower, your body should be ready to wind down just in time for a night of rest and regrowth.