The liver absorbs many of the toxins that enter the body. As those toxins build up, the liver becomes congested and ceases optimal functioning. A detox, or cleanse, removes built-up toxins and allows the liver to perform important bodily functions, including manufacturing proteins, processing fats, eliminating biochemical waste and detoxifying the body and bloodstream. However, liver detoxifications may have some temporary side effects, including constipation, headaches and fatigue.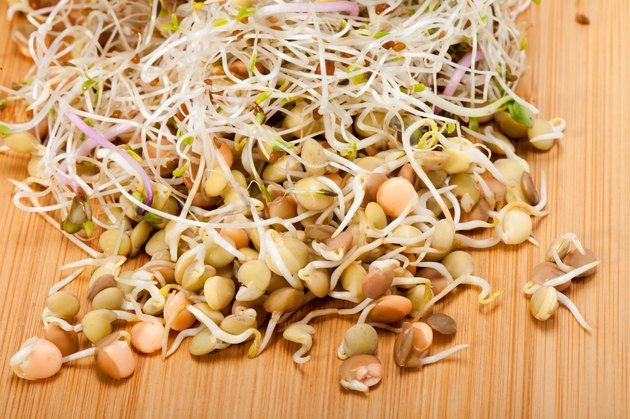 Liver Function
The USC Liver Transplant Program website credits the liver with performing more than 400 functions each day that keep the body healthy. The liver stores fat and sugar, makes proteins, converts food into nutrients and helps detoxify the bloodstream. A well-functioning liver is vital to a healthy body and lifestyle. Without regular liver detoxification, body functions, including bowel function, may suffer.
Liver Detox
Liver detoxification can be achieved through diet. Dr. Sandra Cabot, author of "The Liver Cleansing Diet," provides several important diet suggestions on her website. Eat as many raw foods as possible and drink at least 12 cups of water a day. Take a break from caffeine, processed sugar and fatty meats during a liver detox. Indulge in good-for-your-liver favorites such as antioxidant-packed alfalfa sprouts, legumes, garlic, and fruit and vegetable juices. Eat a strict liver detoxification diet for 10 days or less to achieve cleansing, body regulating results.
Diet Plan
Liverdetoxdiet.net provides a sample diet plan that is high in antioxidants, essential fatty acids and nutrients beneficial to cleansing the liver. Start the day with 1/2 lemon or 1 tbsp. flax seeds squeezed into a glass of water. Digest this cleansing beverage for 10 to 15 minutes on an empty stomach, then drink a breakfast smoothie. Try one made with pears, rice milk and rice protein powder. Snack on celery sticks and fresh-pressed apple juice through the morning. For lunch, prepare 1 to 2 cups steamed broccoli with sesame seeds and sliced beets with lemon juice over 1/2 cup brown rice. Eat a light dinner with salad, 3/4 cup lentils and 3/4 cup quinoa. Drink plenty of water and take a dandelion supplement if desired.
Side Effects
As with any detoxification plan, a liver detox has some side effects. Curbing caffeine consumption can lead to headaches. Toxin elimination through the skin and bloodstream can lead to body odor, breakouts, body aches and fatigue. Any sudden change in diet may result in temporary constipation. Stick with the detox plan because in the long term, a liver detox will minimize the daily occurrence of headaches, breakouts, fatigue and constipation. Combat all side effects by drinking at least 12 cups of water each day and engaging in gentle yoga and stretching to encourage blood circulation and speed the elimination process.
Results
Liverdetoxification.com notes that a well-conducted liver detoxification can result in improved energy, improved mood, decreased anxiety, decreased bloating, decreased constipation, increased bowel function, better breath and better skin. For optimal results, perform a liver detoxification every few months whenever you notice symptoms of bad health, including constipation, trouble sleeping and fatigue encroaching on your life.
Is This an Emergency?
If you are experiencing serious medical symptoms, seek emergency treatment immediately.