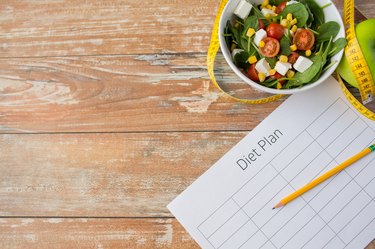 Since the Weigh Down Workshop got its start in 1986, Christian weight loss programs have proliferated, adding faith to what can be an academic process of calorie counting and strict menus. The Christian programs differ in their approach to food and weight loss, but each includes a focus on Scripture and a relationship with God.
PRISM Weight Loss Program
The PRISM Weight Loss Program says it looks for the underlying reasons for overeating and transforms participants' attitudes about food and about themselves. The program includes audio encouragement, weekly videos and daily lessons with Scripture readings. It does not have prepackaged meals or meal plans, but it does suggest a calorie limit and the exclusion or limitation of certain foods. Participants can join a local PRISM group, go through a correspondence course with a consultant by phone, or purchase the program outright. The length of the program depends on the desired amount of weight loss.
The Lord's Table
The Lord's Table is a free, 60-day online course that focuses on developing biblical discipline in eating. Rather than focusing on calorie counting and specific foods, the program emphasizes finding satisfaction in Christ and eating in moderation. Upon enrollment, participants have access to an interactive Bible study each day, plus weekly e-mail contact with a mentor. The program recommends 30 minutes of exercise five or six days a week, plus an eating schedule to help participants develop a disciplined attitude toward food as sustenance rather than comfort. The eating calendar consists of two days with three meals at half portions; two days with one regular meal and liquids only the rest of the day; two days of normal meals in moderation; and one fast day, with liquids only. Questions at the end of each day keep participants accountable for their choices.
Weigh Down Ministries
Weigh Down Ministries, which calls itself the pioneer of faith-based weight loss, encourages participants to stop counting calories, measuring foods and buying diet foods, in the belief that concentrating so much on what you're eating only exacerbates food addiction. Instead, Weigh Down emphasizes paying attention to your body and its cues about hunger and fullness. The program says it isn't the food you're eating, but rather the amount of food, that causes the problem. Weigh Down offers classes for a fee, which can be taken online at your own pace, taken live online with a group on a fixed schedule, or taken locally if you can find at least one other person who wants to do a class with you. The class fee includes a weekly video lesson, a workbook, audio CDs and online support.