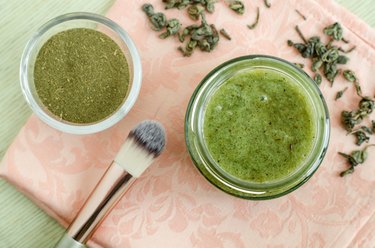 You'd never guess that legendary actress Sophia Loren was born in 1934. She has long credited her youthful glow to using olive oil — both in her diet and on her skin. But there's more than just anecdotal evidence from one Italian beauty to back up this skincare secret — science has plenty of evidence to support olive oil's benefits for your face and body.
Tip
Olive oil is safe to use on your face and has properties that can help you maintain a youthful glow as you age.
Activate Your Genes
Although it's true that "some people are just born with good genes," when it comes to aging gracefully, that's not the end of the story. A 2013 study published in Cell Cycle showed that plant phenols stimulate healing properties in the body independent of the oil's strong antioxidant capacities, neutralizing gene processes that influence more rapid aging. In addition, olive oil contains more than 230 bioavailable antioxidants, including tocopherols and carotenes, and more than 30 phenolic compounds.
More Skin Benefits of Olive Oil
Use the Right Oil
There are many grades and blends of olive oil on supermarket shelves, so don't grab just any bottle. Extra virgin olive oil (EVOO) is the cold-pressed juice of the olive. The oil undergoes no further refining process other than the washing of the fruit, filtration or centrifugation of oil, and decantation.
The best olive oil for your skin should be less than two years old — buy bottles with a harvest date rather than a "best by" date, because the latter starts the clock once the bottle is filled. The olive oil should have fruity tones as well as a bit of an "afterbite" that lets you know the antioxidants contained in it are in a healthy, active state.
Look for seals of quality, such as those from the California Olive Oil Council or Australian Olive Association. These entities require growers to meet quality standards that exceed USDA standards and help ensure maximum freshness and potency.
Slather It On
There's nothing wrong with rubbing a little bit of olive oil on your face and gently massaging it into your skin. One of the benefits of using olive oil for your skin is that it will absorb only as much as it needs in the first few minutes; you can wipe off the rest with a warm washcloth or towel.
Banish Shaving Bumps
Rubbing your whiskers with olive oil before you shave helps soften them and eliminates the need for shaving cream. Unlike chemical-filled shaving creams, the olive oil on your face lubricates, protects and nourishes the skin, making it less likely to look red and irritated for hours afterward. After your stubble is shaved, apply a hot, wet towel or washcloth for a moment to help your skin absorb what it needs; then wipe away any excess oil.
Olive oil is a soothing alternative for women's hair-removal needs as well. It helps reduce irritation with its soothing ingredients, whether you're plucking a few stray hairs on your brows or upper lip or getting swimsuit smooth on legs and bikini line.
Get Silky Smooth
Exfoliating the skin on your face is a traditional way to slough off old cells that can make your face, neck and décolletage look dull and old. Sugar's tiny crystals are an excellent way to gently smooth them away, especially when mixed half and half with olive oil to make a scrub. Add a few drops of your favorite essential oil — such as lavender, orange or rose — to impart a luxurious scent. The scrub can be used on your feet, elbows or all over your body, and will leave your skin feeling soft and smooth.
Make a Soothing Balm
Olive oil can keep your lips protected and moist under the summer sun or in winter's chill, but you'll find yourself reapplying it constantly if you use it straight out of the bottle.
To make a soothing lip balm, add 2 ounces of beeswax pastilles, candelilla or carnauba wax to a cup of olive oil in a double boiler, and warm until the wax melts. Add a teaspoon of vitamin E oil and a few drops of your favorite essential oil for fragrance. Lavender, peppermint and rose are some that work especially well. Pour the mixture into small tins or jars — 7-milliliter jars are available online for less than a quarter each — and let cool. Or pour some in larger containers to use for dry hands.
Moisturize Your Makeup
Add a drop or two of olive oil to your foundation in the palm of your hand before applying it to your skin to get a little extra protection from wind, sun or winter cold. The emollient properties of olive oil guard your skin, while the foundation adds a natural pop of color for glowing skin.
Take It All Off
There's no need to buy expensive makeup removers to banish all traces of your cosmetics at day's end. Simply combine 1/3 cup of water and 2 teaspoons of olive oil in a small bottle. Shake the bottle, and wet a cotton ball or makeup remover pad with the solution to wipe your face.
Revitalize Brows and Lashes
Avoid flaky brows and scrawny lashes with a nightly regimen of olive oil before bedtime. Dab a little oil on a cotton swab and massage it over your brows. Use the other end of the swab to apply oil sparingly to your eyelashes, similar to applying mascara.
Easy does it, though. Over-applying oil can cause it to go in your eye. Although this isn't dangerous, the oil's polyphenols can sting and the oil will coat your eyeball, making your vision a bit blurry. A warm washcloth, eye wash and blinking will help clear it away.