Both green tea and ginger have been touted for their health benefits, which scientific evidence does support. They have a long history of use as culinary and medicinal products coupled with a rich array of folklore. Ginger was believed to be a preventive for death by poison. The story of green tea says that its discovery was the result of an accident, when the leaves of a shrub fell into the drink of a Chinese emperor.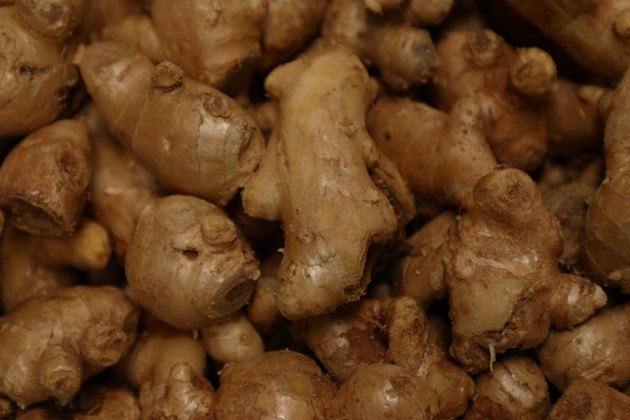 Benefits
The greatest benefits of taking ginger are to relieve nausea and motion sickness. It also can help relieve dizziness, a contributing factor. Green tea's primary health benefit lies in its antioxidant properties, which are believed to help prevent cancer. Both supplements are believed to be effective in the treatment of arthritis, although evidence is limited. In addition, popular belief supports the use of either for weight loss.
Evidence
The evidence supporting the health benefits of ginger is compelling. A 2006 study published in the "Journal of the Medical Association of Thailand" found that taking ginger could help alleviate postoperative nausea. Much of the evidence supporting other health claims of green tea such as a treatment for diabetes is lacking. However, an extract of green tea has been approved by the FDA for treatment of genital warts.
Forms
The active ingredients for green tea are its leaves, whereas the therapeutic portion of ginger is its root. You can take both green tea and ginger in a variety of forms. Either makes a delightful tea, giving you a pleasant way to enjoy them and their health benefits. You also can take ginger or green tea tablets. Consult your physician before adding supplements to your diet.
Dosage
There are a few things you need to do in order to receive the optimal benefits of taking ginger or green tea. In tea form, you must drink three to four cups of tea to receive the proper amount. Avoid using boiling water for green tea to avoid destroying the very compounds for which you are taking it. Safe daily dosage for green tea is 100 milligrams, while ginger is 100 to 200 milligrams up to three times a day, WholeHealthMD.com reports.
Side Effects
Both green tea and ginger are relatively safe, with few side effects. Green tea's side effects are primarily confined to caffeine-related issues; however, there is very little caffeine in green tea. With ginger, you may experience heartburn or diarrhea after taking too much. Consult your doctor before taking ginger if you are diabetic or take blood thinners such as warfarin. Pregnant women should avoid taking either herbal supplement.