Alcoholics who suddenly stop drinking or go too long without a drink can experience withdrawal symptoms similar to those of a drug addict. In severe cases, the withdrawal symptoms can cause significant mental and neurological changes or impairments, a condition called delirium tremens, or DT. Delirium tremens typically develops within 72 hours of having an alcoholic drink, according to the National Institutes of Health. It is most common in people with a history of experiencing alcohol withdrawal symptoms or those who have been alcoholics for more than 10 years. Before experiencing DT, alcoholics can experience other signs of withdrawal.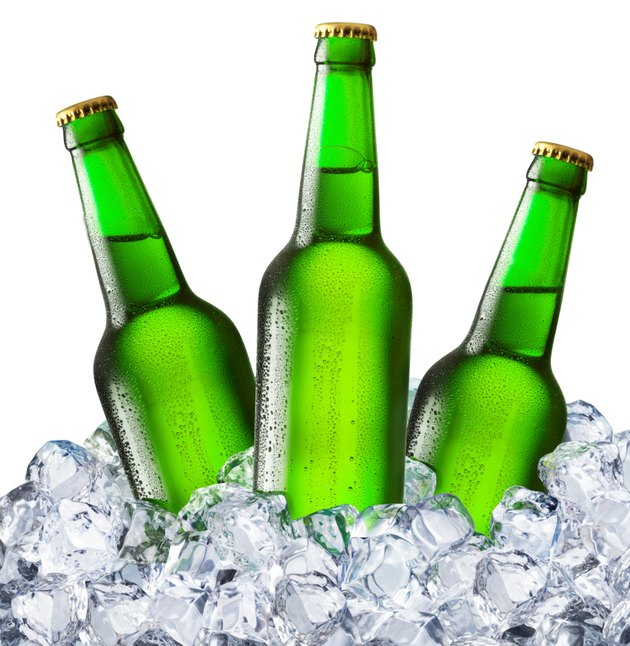 Tremors
One early sign of alcohol withdrawal is shaking or body tremors, according to the Penn State University Milton S. Hershey Medical Center. Some alcoholics can even be shaky first thing in the morning, before they have their first drink of the day. These muscle tremors develop because of the body's physical dependence on alcohol.
Nausea
Early alcohol withdrawal symptoms also can include nausea and, in some cases, vomiting. Loss of appetite is also common.
Mental State
Alcohol withdrawal can alter a person's mental state, causing confusion or difficulty thinking clearly, according to the National Institutes of Health. Other symptoms include depression, anxiety, difficulty sleeping, fatigue, irritability and excitability. In some cases, people may appear jittery, jumpy, nervous or agitated. Some people even become aggressive while going through withdrawal. These symptoms can be heightened or become more acute when DT develops.
Sweating
Profuse sweating, often on the face or the palms of the hands, can also be a sign of early alcohol withdrawal. Pale-looking skin and cold and clammy skin are common as well in people experiencing withdrawal.
Heart Rate
Alcohol withdrawal can cause an acceleration in the heart rate, causing heart palpitations or the feeling as though the heart is racing, according to the National Institutes of Health.
Seizures
Seizures can develop in some people going through alcohol withdrawal. This sign is more rare than many others, developing in only about 10 percent of alcohol abusers, according to the University of Maryland Medical Center. When seizures do develop, it is usually only for a limited time, with the last seizure occurring 6 or fewer hours after the first.
Pupil Dilation
Another sign of alcohol withdrawal is enlarged or dilated pupils, according to the National Institutes of Health.
Headaches
Some alcoholics can develop headaches as their body goes through the process of withdrawal. Fever can also sometimes develop, although this is a more severe sign and could be an indication that DT may be imminent.