The hip flexor muscles are attached to the hip joint to allow the femur, which is the upper leg bone, to flex onto the pelvis region. In simpler terms, the hip flexor muscles allow the knee to pull up. The hip is a large, deep and stable ball and socket joint that joins many ligaments, tendons and muscles.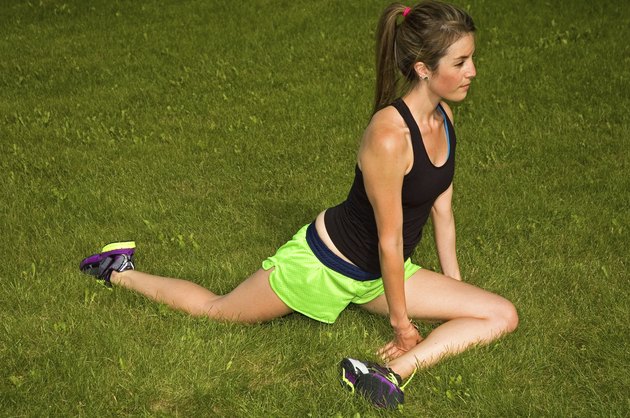 Iliopsoas
The iliopsoas muscle group consists of two muscles: the psoas muscle and the iliac muscle. These muscles work together to help the hip flex. The psoas muscle connects to the lumbar vertebrae L1 through L5. The other end of the psoas muscle connects to the tendon on femur bone. The lumbar plexus, a nerve bundle that originates at the middle of the spine, supplies the psoas with nerves. The iliac muscle connects to the ilium, the largest bone of the pelvis, on the top and runs under the psoas to the same tendons of the femur bone as the psoas muscle. The nerves of the iliac muscle are supplied by the femoral nerve, which is located in the leg.
Sartorius
The top of the sartorius muscle attaches to the anterior superior iliac crest. Anterior is the portion toward the front of the body, superior is the part toward the head, and iliac crest is the top border of the ilium. The muscle crosses the upper leg to attach to the tibia, also known as the shin bone. The femoral nerve supplies the sartorius muscle with nerves. The sartorius muscle aids in knee and hip flexion and rotation of the thigh and tibia.
Rectus Femoris
The rectus femoris is one of the four quadriceps muscles -- the quadriceps are the major muscle group of the front of the upper leg. The rectus femoris attaches to the anterior inferior -- the part toward the feet -- portion of the iliac crest and runs to the base of the patella, also known as the knee. The femoral nerve supplies the rectus femoris with nerves. This is the only muscle that crosses the hip joint, which enables it to work as a hip flexor and a knee extender muscle.