Teenage boys can lose weight easily because of high levels of testosterone and growth hormone, which are potent fat burners. However, eating the wrong food at the wrong time, particularly sugars at night, can force the body to store fat. By taking a simple metabolic approach to diet and exercise, teenage boys can lose weight fast and keep it off, decreasing their chances of developing heart disease, diabetes and obesity.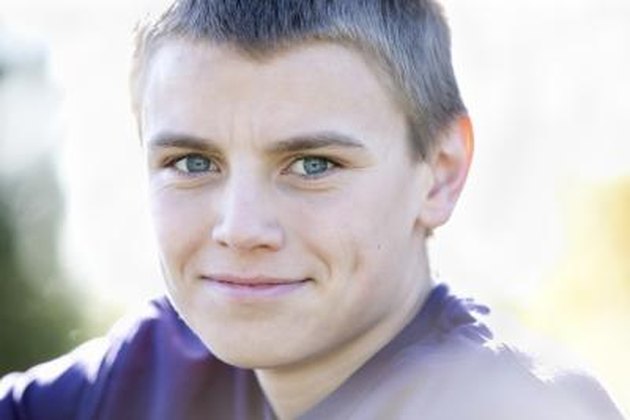 Eat More Meals
Eating several smaller meals throughout the day is a good way to lose weight, according to The Abs Diet. The idea is to eat three main meals--slightly smaller than your regular breakfast, lunch and dinner--along with three small snacks. Frequent meals decrease insulin production, increase metabolic rate, suppress hunger and help to build muscle, according to The Fat Burning Bible.
Eat the Right Foods
No matter how good the meal plan, eating the wrong foods in improper proportions can lead to fat gain. Teenagers are notorious for snacking on food with empty calories such as chips, cookies and ice cream. When you are young, you do not store fat as easily and you should take advantage of that but not at the risk of developing obesity and chronic diseases. Many teenage boys can lose weight merely by switching to healthier alternatives. You can lose weight by eating lean proteins such as turkey, chicken and fish, low-glycemic carbohydrates such as oatmeal, fresh fruit and unrefined whole-grains, and healthy fats such as olive oil, avocado and nuts and seeds, according to The Abs Diet.
Increase Protein
Carbohydrates and proteins both have four calories per gram, but they affect the body differently. Protein's "thermic effect" means that it takes more energy for the body to digest it. Eating more protein, in conjunction with an exercise program, can help you lose weight fast. Fitness author Jeff Anderson recommends consuming about one gram of protein per pound of your body weight if you work out regularly.
Decrease Carbohydrates
Carbohydrates make up the body's primary source of fuel, but they also readily store as body fat. You do not need to do a low-carb diet to lose weight fast. Taking in moderate amounts of carbohydrates is better because carbohydrates provide essential vitamins and nutrients. "Xtreme Lean" authors Jonathan Lawson and Steve Holman recommend 150 grams of carbohydrates per day. A good rule is to start your weight loss program by consuming one gram of carbs per pound of your body weight per day. You can try that for two weeks. If you are not losing one to two pounds per week, you can reduce that count by 50 grams of carbs per day. After two more weeks, reevaluate your progress and make adjustments.