According to Food Business News, 36-percent of Americans follow a diet of some form, with 5-percent choosing to follow Whole30. And that group has some illustrious colleagues. Celebrities like Busy Phillips have tried (and survived) Whole30, but what is it exactly?
Melissa Hartwig Urban, Whole30 co-founder and CEO, gave us the inside scoop on the diet plan she created in 2009. After eliminating certain foods for 30 days as an experiment, Urban saw dramatic improvements in her energy, sleep, mood, digestion as well as with her emotional relationship with food.
"It was the first time in my life I was able to get off the scale and out of the mirror," she said. "The experiment brought about a profound and permanent shift in how I thought about food and my body," she says. Urban shared her experience on her blog, and several hundred people decided to follow along with the 'rules' she drafted. "That was the start of the first ever group Whole30, in July 2009," says Urban.
What Is Whole30?
Unlike buzzy diet trends like keto (which began as a medical diet) and paleo (which is built around how our ancestors ate), Whole30 is a 30-day dietary program. And while there's some overlap, there are significant differences to note.
"Think of the Whole30 like pushing the reset button with your health, habits and relationship with food," says Urban. "For 30 days, you'll eliminate foods that are really commonly problematic (to varying degrees) in one of four areas — your cravings and emotional relationship with food, your blood sugar regulation and hormonal balance, your digestion and your immune system."
Samantha Cassetty, RD, nutrition and weight-loss expert, likes how Whole30 focuses on whole, real foods from quality sources. "Filling up on whole foods — notably, lots of veggies, as well as lean meats, and healthful fats, over processed ones, is a good way to nourish your body and mind," she says.
"You'll get protective compounds that support your overall health, enable better sleep, and promote concentration and mood regulation, and you'll eliminate the processed stuff that interferes with these processes," she says.
How Does Whole30 Work?
The program has two main parts. In addition to eliminating certain food groups for 30 days, Urban says, during that time, you need to pay attention to your body and its reactions.
"You'll pay attention to what happens to your cravings, energy, sleep, mood, attention span, digestion, aches and pains, anxiety, skin, allergies, asthma, migraines and other symptoms in the absence of these potentially problematic foods," she says.
Then, at the end of the 30 days, you'll reintroduce those foods one at a time, like a scientific experiment, and compare your experience. "You'll then take what you've learned about how these specific foods work for your body and brain and use that information to create the perfect, sustainable diet for you, because there is no one-size-fits-all," Urban says.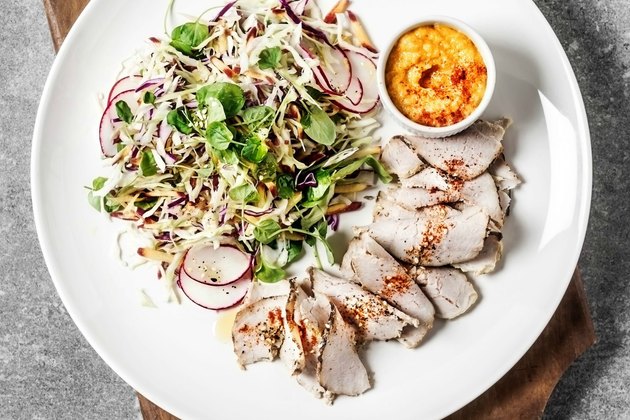 Whole30 Diet Food List: What Are Whole30-Friendly Foods?
Moderate portions of meat, seafood and eggs
Lots of vegetables
Some fruit
Plenty of natural fats
Herbs, spices and seasonings
"Eat foods with very few ingredients, all pronounceable ingredients, or better yet, no ingredients listed at all because they're whole and unprocessed."
Whole30 Diet Food List: What Foods Should You Steer Clear Of?
The Whole30 mantra? "When in doubt, leave it out. It's only 30 days." So on Whole30, you'll avoid:
Sugar (real and processed)
Grains (wheat, rye, barley, oats, corn, rice, millet, bulgur, sorghum, sprouted grains)
Gluten-free pseudo-cereals like quinoa, amaranth and buckwheat)
forms of bran, germ and starch
Legumes (even peanuts and all versions of soy)
Dairy
Carrageenan
MSG and sulfites
Baked goods
Junk food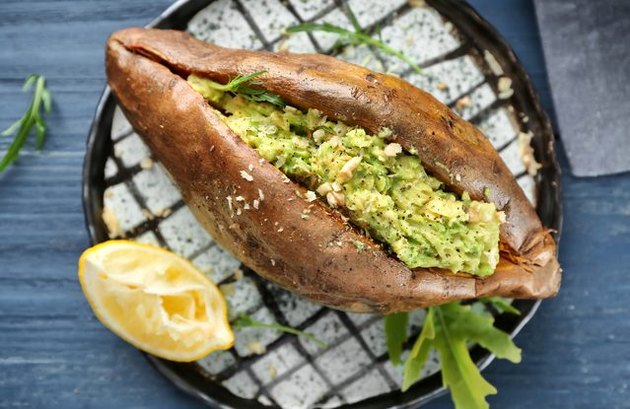 The Best Whole30 Foods for Breakfast
Some say that breakfast is the toughest meal to conquer when it comes to Whole30 and can burn out when it comes to eggs. But with a little creativity, you'll quickly find that breakfast can be just as fun, and enjoyable, as lunch and dinner.
If you have grown tired of egg-based dishes, try making sweet potato toasts and load them with your favorite proteins like salmon or sausage. Of course, you can always add avocado to your toasts or really upgrade your breakfast routine with a baked sweet potato stuffed with guacamole.
The Best Whole30 Foods for Lunch
Salads packed with healthy fats and protein are a good choice when it comes to your mid-day break. Some of our favorites? Arugula with salmon and avocado by chef and author, Seamus Mullen for starters.
As for dressing, if you don't make your own, check out Whole30-compliant dressing from Mark Sisson's Primal Kitchen available at Whole Foods.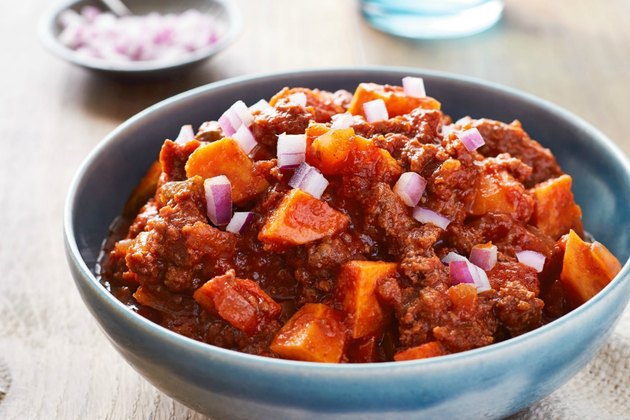 The Best Whole30 Foods for Dinner
The Best Whole30 Snacks
While snacking isn't encouraged on Whole30, the program does recognize that sometimes it's necessary to eat between meals. If you find yourself needing a snack, aim to eat something satisfying that contains a protein, a fat and a carb.
Try a hard-boiled egg plus carrots dipped in Primal Kitchen Ranch dressing or a make a mini meal out of last night's dinner. Of course recognizing if you are really hungry or just bored is part of the Whole30 process.
How Do You Measure Success for Whole30?
Urban reminds us that Whole30 isn't a weight loss program and instead measures success with NSVs (non-scale victories). "Diet culture has us so conditioned to use body weight as our primary measurement of 'health,' but there are a million other factors that truly point to better health and quality of life in a way that doesn't make us neurotic or anxious," she says.
Those that follow Whole30 should look at everything from cravings, energy levels, sleep quality, mood, focus and productivity, self-confidence and self-advocacy to physical improvements like clearer skin, less swollen joints, increased mobility and less bloating.
"While the Whole30 isn't a medical elimination diet, we routinely hear of improvements in all sorts of conditions, like allergies, migraines, anxiety and S.A.D., behavioral issues (especially in kids), and high blood pressure," Urban says. "We aren't a weight-loss program, but people do report losing weight without counting or restricting calories — on average between six and 15 pounds in 30 days."
What's the Hardest Part of Following Whole30?
When it comes to preparing for the obstacles of doing Whole30, Urban says it all comes down to planning and preparation. "Whole30 is different from anything you've ever done, even if you're already eating healthfully," she says.
And it's integral to make sure some meals are planned; that you've read the labels on all your condiments, herbal teas and convenience foods and that you have plenty of "emergency food" stocked for late meetings, travel delays or busy days, she says.
And last but not least, make sure you've talked to friends and family members about your commitment and gained their support to achieve Whole30 success. Urban also stresses the importance of a support system. "If you don't have people at home doing the program with you, seek that out online, via social media, a Whole30 Certified Coach or our free Whole30 forum," she says.
Who Should Avoid Doing Whole30?