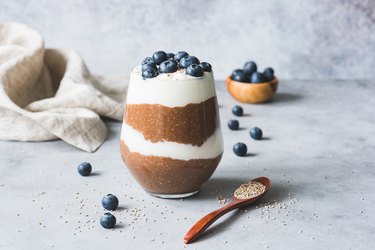 If you're following the Whole30 diet, meal planning can be a struggle, as you're restricting a bunch of foods, including grains, dairy products and legumes like peanuts. And breakfast can be even harder, since there's only so much time in the morning to whip up something healthy and get out the door.
The good news? We've got six Whole30-approved breakfasts that are delicious and take a max of 10 minutes of a.m. prep.
Remind Me: What's Whole30 All About?
First off, what is Whole30? "It's a 30-day reset designed to change your health, your habits and your relationship with food, explains Sam Presicci, RD, CPT, a dietitian with Snap Kitchen. "For 30 days, you eliminate commonly inflammatory foods, reintroducing them slowly and deliberately starting on day 31 to see how each food impacts you."
Veggies and fruits
Animal proteins like beef, pork, chicken or bison
Seafood
Nuts and seeds
Healthy fats like avocados and avocado oil, ghee, extra virgin olive oil, olives, coconut oil, pasture-raised animal fats and unsweetened coconut
‌Things to avoid on Whole30:‌
Gluten
Grains (even gluten-free options)
Added sugars
Alcohol
Legumes
Dairy
Carrageenan
MSG, or sulfites
Baked goods
Junk food or "treats" (even with compliant ingredients)
Keep in mind that it's meant to be a short-term diet. "The Whole30 is not meant to be the Whole365, but rather a short-term reset," Presicci says. However, you want to make sure you're still getting the fuel you need for those 30 days, especially bright and early in the morning. "The goal is to find the foods that work for you so that you can still feel great but have a wider variety in your diet," she says.
As for what to look for in a good breakfast on Whole30, Presicci recommends combining healthy fats from nuts and seeds or avocado with solid protein from eggs, collagen, meat and/or greens. You also want fiber, to help you stay fuller longer. And of course, enjoy fruit and seasonings, like spices and herbs, to make the dish more enjoyable and flavorful.
For some inspiration, look to these delicious, quick and easy Whole30 breakfast recipes.
1. Sweet Potato Whole30 Breakfast Bowl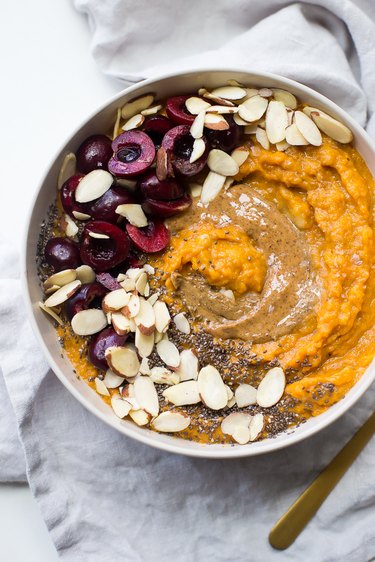 The perfect balance of sweet and savory, this sweet potato breakfast bowl from 40 Aprons has tons of flavor and essential nutrients, like fiber and antioxidants, to fill you up and keep you well. Plus, if you combine the base (cooked sweet potatoes and eggs) the night before, it takes only five minutes to whip up in the morning. How easy is that when you're stressed for time? Add slivered almonds and nut butter on top for a dose of healthy fat and a satiety boost.
2. Pumpkin Spice Butter Coffee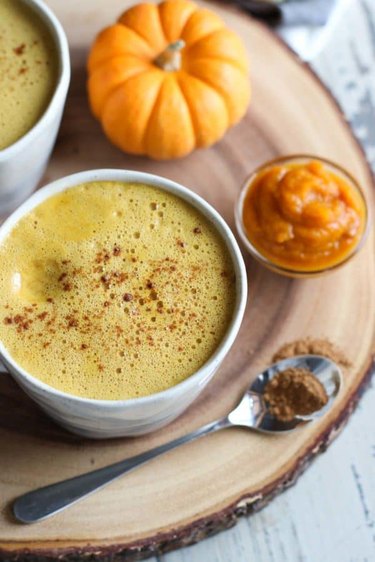 Some people need to tame the hunger monster in the morning, while others simply prefer something warm to sip on. For those in the latter group, try this butter-infused coffee from The Real Food Dietitians, which is packed with protein (18 grams!) from collagen and ghee to fill you up until lunch. Plus, it's ready in five minutes, and you can drink it on-the-go. No utensils required!
3. Chocolate Chia Seed Pudding with Almond Milk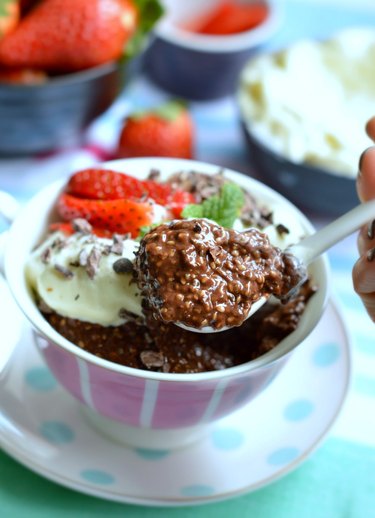 This overnight chia seed pudding from Sweet as Honey might take a couple of hours to sit in the fridge overnight, but it takes only five minutes to assemble before refrigeration and basically zero minutes come morning. Just pop it out of the fridge and grab a spoon. Plus, it's packed with protein and fiber from the seeds to keep you fuller longer. Add whatever toppings you like!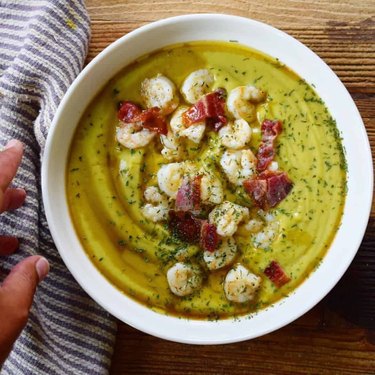 If you are on the AIP diet and doing Whole30, or you simply want a veggie-packed breakfast to get in fiber and essential nutrients in the morning, this recipe from The Castaway Kitchen has you covered. With broccoli and cauliflower, as well as bacon and shrimp, it doesn't ‌seem‌ like breakfast, but when you consider the health benefits, it's perfect for a savory craving that will hold you over until lunch. Besides, crispy bacon does scream morning, right? Save time by doing meal prep in advance so the cook time is just 10 minutes!
5. 3-Ingredient Paleo Banana Pancakes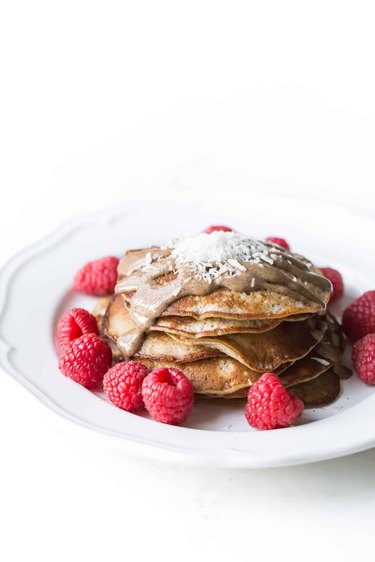 Pancakes on Whole30? That's right! And these banana pancakes by Tastes Lovely are ready in no time. Made with just bananas, eggs, cinnamon and oil, they are so simple, and you can play around with toppings like fruit, nut butter, unsweetened coconut flakes and more. Plus, once Whole30 ends, you can still make these babies on a Sunday morning and add maple syrup for more flavor.
6. 5-Minute Savory Breakfast Plate
This Whole30 breakfast recipe from Rachl Mansfield is done in just five minutes and packs a punch of nutrients and flavor. It has eggs, avocado and beets to hit all the marks — healthy fats, protein, fiber, iron and antioxidants — so it'll fuel your body for the rest of the day ahead. Add in "Everything but the Bagel" seasoning for that extra kick!