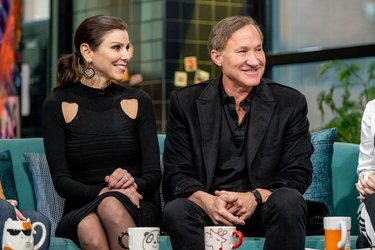 Every week, it seems like a promising new diet gets its spotlight in the zeitgeist. The keto diet has been center stage for some time, hawked by celebrities and news anchors alike. But other celeb-backed routines are creeping in. Take the Dubrow diet, an eating plan based around time-restricted fasting and low-calorie meals.
The Dubrow diet has three phases, each with specific fasting windows and food parameters. The plan was created by Heather Dubrow, who stars on Bravo's ​Real Housewives of Orange County​. In 2018, she published ​The Dubrow Diet: Interval Eating to Lose Weight and Feel Ageless​ with her husband Terry Dubrow, a plastic surgeon who stars in his own reality TV show, ​Botched​. The celebrity couple says their three-phase system has plenty of benefits beyond weight loss, including increased energy, rejuvenated skin and lower insulin levels. The couple has also mentioned that their diet can stimulate hair growth.
The Dubrow diet, which focuses on intermittent fasting (though its creators refer to this as "interval eating") is about both what and when you eat. The first phase, the most restrictive of them all, is meant to kick-start your weight loss with extreme fasting.
In phase one of the Dubrow diet, you fast for 16 hours a day for around five days, consuming limited portions of approved foods within an eight-hour window. Phase two is less extreme, and you're meant to follow it until you achieve your goal weight. There's a range of parameters in this phase: According to the Dubrow guidelines, if you want to lose weight more quickly, you practice longer periods of fasting (up to 16 hours).
Phase three is considered a maintenance phase: You follow the principles of phase two, but you're less restrained with portions and can indulge in a "cheat moment" every now and then. If you start to gain back some weight during phase three, you're meant to return to phase two until you reach your goal again.
"This diet is not a fad diet, it's not even really a diet, it's a lifestyle," Dr. Dubrow told Bravo. He cited the 2016 Nobel Prize-winning research around how starving human cells spurs them to achieve autophagy, the process in which cells recycle their content. "With the discovery of the fact if you eat in certain intervals and then you don't eat in other intervals, it sends your body into a state of anti-inflammation, of cell-renewal and cell recharging, and you preferentially use fat as fuel every single day rather than sugar. So you immediately start breaking down your own fat," he said.
Food-wise, the plan is made up mostly of leafy greens, lean proteins, beans and low-fat dairy (though the authors suggest skipping milk products altogether in phase one). Alcohol, carbs and sugar are very limited in the beginning, though the authors say they can eventually be integrated back in. Some of the recipes featured on the Dubrow diet include trendy ingredients like zoodles (zucchini noodles) and cauliflower pizza crust.
As for exercise, the Dubrows recommend high-intensity interval training in short bursts. "We believe you burn the most amount of fat if you do it during your non-eating intervals," Dr. Dubrow said on ​The Doctors​. "We call it cardio fasting."
What Are the Benefits of the Dubrow Diet?
"The diet includes nutritious foods such as fruits, veggies and complex carbs," Amy Gorin, MS, RDN, owner of Amy Gorin Nutrition in the New York City area, tells LIVESTRONG.com. Gorin adds that the plan can be easier to follow than other intermittent fasts because it doesn't cut out alcohol entirely. While "certain types of fasting may help with weight loss and fat loss," Gorin says that "the science behind this type of weight-loss approach is preliminary, and there has only been a limited amount of research done specifically on time-restricted eating."
It's possible that the Dubrow diet also has some insulin-reducing benefits, as it claims. A June 2018 study published in the journal ​Cell Metabolism​ examined the effects of intermittent fasting on a group of men who have overweight and obesity, and men with prediabetes. One group of men ate their meals in a six-hour period of the day (fasting for 18 hours), while the other spread out their eating over 12 hours (fasting for 12 hours), after which both groups swapped fasting schedules. While the participants didn't lose weight, they had significantly lower insulin levels, improved insulin sensitivity, lower blood pressure and decreased appetite after five weeks. These findings suggest that following a fasting-based diet approach may result in weight loss over time.
Are There Any Risks Associated With Following the Dubrow Diet?
"Although there aren't guidelines for calories that are spelled out in this diet, you may end up eating between 1,000 to 1,200 calories a day during the first two phases," Gorin says. "This is a very low amount and could cause you to feel hungry and be irritable. Also, reaching your nutrient needs through food will be difficult at this calorie level."
Gorin also explains that the diet could have a negative effect on body image. "The book talks a lot about appearance and getting bikini ready. Typically, sustainable weight loss happens as a side effect of wanting to be healthier, adopting lasting healthy-eating habits and initiating a healthier relationship with food. If appearance is the primary goal, I worry that this isn't the best motivator," she says.
Can the Dubrow Diet Help You Lose Weight?
Gorin says that certain types of fasting may help with weight loss. And, because most people following the diet will reduce their calorie intake, weight loss is certainly a possibility.
However, the Dubrow plan has garnered mixed reviews. Fans credit it with weight loss and accountability. "I love it, it keeps me in control and aware of what I'm supposed to eat and not eat," one person commented on the Dubrow diet Facebook page. "This is the 'last' diet I'll ever have to be on, because really, it has been a lifestyle change, not a diet!" wrote another who claims to have lost 30 pounds in six months following the Dubrow diet. "I went from a size 10 to a size four! I feel and look younger than I have in years! And, I haven't been this weight since I was in high school! Who says a woman of a certain age (over 50) can't lose weight!"
Many negative reviews of the book on Amazon, however, note that there are better sources to learn about intermittent fasting. "Not worth buying. Very little info, mostly recipes. Any other book out there on intermittent fasting is better," wrote one reviewer. "Nothing great or new about this diet. Basically low carbs, no sugar, controlled portions," wrote another.
Should You Try the Dubrow Diet?
While weight loss and insulin-level reduction are both possibilities on this eating plan, Gorin says that there are many other ways to lose weight that are worth exploring over the Dubrow regimen. "This diet feels restrictive and overly focused on appearance," she says, and for that reason, she suggests that people with a history of disordered eating avoid the Dubrow diet. "It is very restrictive and could lead to overeating or binge eating," she explains.
She also recommends that people with diabetes or those who are pregnant avoid this diet. Especially in those cases, it's important to consult with a medical expert before diving into a new eating plan.