Kombucha is a bacterial colony that resembles mushrooms, commonly consumed as a sweetened, fermented tea. Though kombucha tea has remained popular in other cultures for many years, it has recently gained esteem in the United States. According to Mayo Clinic internist, Brent A. Bauer, M.D., kombucha tea is thought to improve immune function and digestion. However, these benefits lack evidence and dangerous consequences of kombucha tea, including death, have been reported.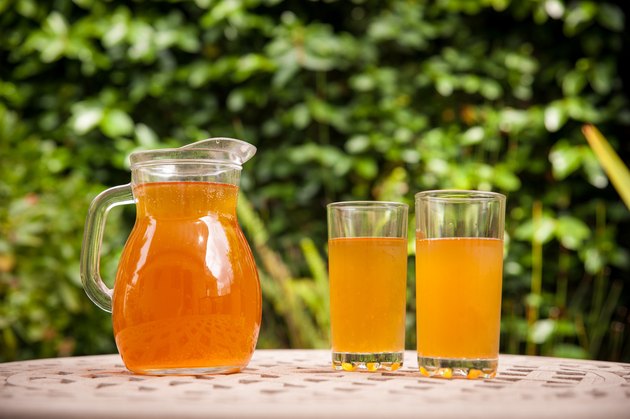 Allergic and Toxic Reactions
Allergic reactions occur when the body exhibits negative immune reactions--such as congestion, difficulty breathing or swelling--in response to particular toxins (allergens). According to Bauer, numerous allergic reactions triggered by kombucha tea have been reported. Since mold may develop during the fermenting process, people with mold allergies are at heightened risk of experiencing allergic reactions. Toxic reactions, or adverse physical reactions caused by exposure to poisonous chemicals, have also been reported.
Bacterial Illnesses
Various types of bacteria, fungus and yeast may develop during the brewing and fermenting processes used to make kombucha tea. According to the American Cancer Society (ACS), some of these substances may be toxic and lead to bacteria-related illnesses, such as candidiasis, vagintis or thrush. Since home-brewing methods and facilities vary substantially, kombucha tea may also contain dangerous germs. For this reason, the ACS warns people with cancer, HIV/AIDS or other immune-related health problems to abstain from kombucha tea.
Liver Damage and Potential Death
Kombucha and kombucha tea-related deaths have been reported. According to an article by Dr. W. Gifford-Jones, published in "Epoch Times" in 2007, kombucha intake may cause severe liver damage and potentially lead to death. Gifford-Jones suggests that consumers increasingly reach for herbal remedies, such as kombucha, without knowledge of their safety, effectiveness or potentially serious side effects. Until its safety is proven, he advises against kombucha consumption. If a person who regularly consumes kombucha products develops jaundice (yellowing of the skin), he is advised to stop consumption, as jaundice may indicate kombucha-related liver damage, according to the ACS,
Lead Poisoning
Lead poisoning is a serious condition caused by lead build-up in the body. According to the ACS, once kombucha tea is fermented, it becomes highly acidic. If it is then served or stored in ceramic, painted or lead crystal containers the acidity may cause the tea to absorb toxic substances from its container and trigger lead poisoning. Potential complications of lead poisoning include anemia, cataracts, digestive problems, cognitive problems, nerve damage and pregnancy complications.